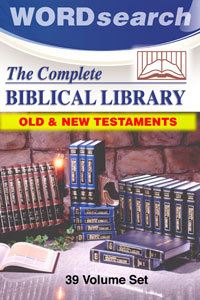 The Complete Biblical Library Old and New Testament
39-Volume Bundle
Product Details
The Complete Biblical Library was a remarkably ambitious undertaking involving over 500 Bible scholars and researchers. It took over 20 years to produce an exhaustive reference set, unlike any other. The result was a 39-volume library detailing the entire Bible, blending all study tools into one resource. CBL books have been out of print since 2001, but they're exclusively available by Wordsearch. Demand for CBL books has remained high. Rare volumes have recently sold on eBay for over $200 per book!
What makes The Complete Biblical Library such a sought-after work?
CBL's unique interface of fresh, precision study tools makes it ideal for the Bible scholar and the serious student. This Old and New Testament bundle is a 39-Volume set containing an Old and New Testament Study Bible, a Hebrew-English Dictionary, a Greek-English Dictionary, a Various Versions volume, a Harmony of the Gospels, and a Greek Grammar. Old and New Testament sets can be purchased separately.
Old and New Testament Study Bibles
The Study Bible volumes contain an encyclopedic survey of the particular Old or New Testament book being treated. Each survey provides a general outline; discusses matters which may have several opinions; and, provides background information regarding the history, culture, literature, and philosophy of the era covered by the book. Following the overview is a unique Interlinear that contains the Hebrew or Greek text, the grammatical forms, the transliteration, the translation, and the word's assigned number that is useful for cross-reference study within all volumes of The Complete Biblical Library. Various sources for the Hebrew text are listed within the Study Bible volumes. The New Testament Study Bible employs a Textual Apparatus to compare the many different Greek texts and their variants. A verse-by-verse commentary that is useful for a basic understanding of every Old and New Testament verse is then included. Finally, nearly 30 various Bible translations are interspersed throughout the Old Testament text, and nearly 100 various Bible translations are interspersed throughout the New Testament text, in addition to the complete King James Version text, to show how different phrases have been translated over the years.
Hebrew and Greek Dictionaries
The Hebrew-English Dictionary and the Greek-English Dictionary volumes are fitting companions to the Study Bible volumes. The volumes are closely linked by a numerical system which identifies each Hebrew and Greek word. The number is placed above the word in the Interlinear and is repeated in the Dictionary which lists the words in alphabetical order. By this system a person may easily go from the Study Bible to an in-depth study in the Dictionary. Such an arrangement makes these dictionaries as usable for the layman as for the scholar. Features of the Hebrew-English Dictionary and the Greek-English Dictionary include:
Hebrew Words of the Old Testament
Greek Words of the New Testament
Cognate/Synonym Research
Septuagint
Grammatical Forms
Hebrew-English Concordance
Greek-English Concordance
Word Studies
Resource Tools
The Word Studies portion of the Dictionary is the real heart of the CBL Dictionary. Most lexicons offer word studies on "key" words. CBL gives you a word study on every Hebrew and Greek word.
Hebrew Word Studies
Every Hebrew word study follows the same format: Explanation of how the word was used in Hebrew through the period of the Old Testament's authorship - the discussion includes Hebrew poetry, historical accounts, inscriptions, related languages, etc. This provides a good basis for understanding the word's significance in the Old Testament. Cognates (related words coming from the same stem) - word studies will sometimes list cognates of other Semitic languages. Cognates in these related tongues often help clarify Hebrew words, especially those which occur infrequently. Number of times the word appears in the Old Testament - this number may not coincide with the number of occurrences in the Concordance, because there is sometimes disagreement as to the root form of the word. Furthermore, each word study also references Strong's numbers, plus gives you the volume and page number where this word can be accessed in The New Brown-Driver-Briggs-Gesenius Hebrew and English Lexicon, The Hebrew and Aramaic Lexicon of the Old Testament, the Theological Dictionary of the Old Testament, and the Theological Wordbook of the Old Testament (hot links are applied to words that can be found in Wordsearch versions of these tools).
Greek Word Studies
Every Greek word study follows this 3 step outline: Classical Greek - CBL tells you how this word was used in classical Greek literature. If a Greek word was used only once or twice in the NT, it will shed new light on the word to see how, for instance, Homer used the same word in the Iliad. Septuagint - The Septuagint is the Greek translation of the OT. Understanding how ancient Hebrew scholars used rare words will give you deeper insight into the particular word or phrase you are studying. New Testament - Finally, each word study takes you on a tour of that word's usage throughout the different books of the NT. Furthermore, each word study also hot links you to Strong's numbers, plus references you to the volume and page number where this word can be accessed in Kittel, Colin Brown, Bauer, Liddell-Scott, and Moulton Milligan.
AND THERE'S MORE!
HARMONY OF THE GOSPELS - This Harmony is different from any other. Robert Shank (author) is noted for his accurate juxtaposing of the 4 Gospels, story by story, from the birth of Christ through his ascension. All 4 Gospels (in KJV) are laid side by side in parallel columns. What makes this Harmony unique is the 5th column, known as a Diatessaron. This interweaves all 4 Gospels into a single narrative, in modern English. Every verse of all 4 Gospels is accounted for, but no verse is repeated.
GREEK GRAMMAR - You'll also find a handy Greek Grammar volume that can literally teach anyone New Testament Greek. It starts with the foundation of the English grammar you are already familiar with and builds on that basis. Users have have remarked that it's like getting 2 semesters of New Testament Greek!
Such a combination of Biblical and theological material has not been produced in any previous work. The Complete Biblical Library is special because it employs a system which is usable by those who have little or no knowledge of Hebrew or Greek, yet will appeal to theologians at the highest level of scholarship. For all who use this work, it will open wider the door to the richness of the original text of the Old and New Testaments.
3 CBL SETS ARE AVAILABLE TO CHOOSE FROM: You may purchase the 17-volume CBL New Testament set, the 22-volume CBL Old Testament set, or the complete 39-volume Bible Lovers set that contains both Old and New Testament right here. Payment plans are available by calling 1-800-888-9898.
Endorsements
The Complete Biblical Library is a remarkable tool available to pastors, scholars, and lay people who are seriously interested in learning about the Word of God. Its most unique contribution is that it grasps the world of heavy research and translates it into something that any curious reader can understand...
One of the greatest tools for the serious Bible student to come along in my lifetime is The Complete Biblical Library. It has it all: the original Greek, interlinear, King James Version, practical commentary, and references that make Bible study come to life."
The Complete Biblical Library will be of invaluable assistance to my family and me in our studies of God's word. I expect to share it with my friends in my Bible study group.
The Complete Biblical Library combines scholarly accuracy with easy readibility and first-class photo and art work. If you believe in personal Bible study, this work will help you see clearly and keep your priorities straight. The only disadvantage to this work is that there is so much in it that it will make it hard for the rest of us theologians to sell our little books! A tremendous aid to true contextualization--understanding the Bible in terms of its time and place is a tremendous aid to communicating its timeless message here and now. Theologically speaking, it looks as though more work has gone into this than into building the Great Pyramid. It will keep its stature and its value for a long time.
God is calling women to play a vital role on the earth in the crucial days ahead. To be prepared, we must grow in our knowledge of God's Word. The Complete Biblical Library is an excellent resource for us.
For those seeking a deeper understanding of the Bible, The Complete Biblical Library is an incredible tool that is simple to use. The researched commentary, unique insights, original Greek, and colorful maps and photos - all at my fingertips - is making my Bible study time come alive in a new exciting way.
One of the most comprehensive and ambitious editions of the New Testament ever conceived in modern times. I feel I can recommend this set without reservation.
The Complete Biblical Library is a marvelous example of a thorough Bible study program, introducing the reader to the Bible in its entirety. While one may not agree with every interpretation, the hours of godly scholastic commitment that have gone into this resource work are remarkable indeed.
There has never been a more important time than now to know God's word. This reference set should be in every home in America. The name couldn't be more appropriate. It really is a complete Biblical library within itself.
I am very impressed with what this tremendous educational research tool offers the layman, the pastor, and the scholar in one efficient package. The Complete Biblical Library opens to everyone doors once only accessible to scholars and theogians. This marvelous work will free pastors and Bible scholars from many hours of tedious research. All the busy work is done and laid out in an easy-to-find manner.
The Complete Biblical Library is like having the benefit of years of Bible college in a convenient, easy-to-understand, bookshelf reference. As the leader of a Christian prayer ministry, but having no formal seminary or Bible college training, I find The Complete Biblical Library to be critically important as I seek to understand God's Word. It's wonderful to find such a multifaceted study resource like The Complete Biblical Library. Everything I need for understanding and communicating the meaning of God's word is right at my fingertips. I've never seen anything like it. The Complete Biblical Library saves me significant time. Added insight is right at my fingertips, and my study of scripture has taken on a new excitement.
Products Included In This Bundle