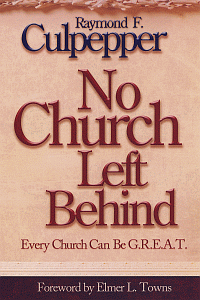 No Church Left Behind
Every Church Can Be G.R.E.A.T
Product Details
Every church can be GREAT, and no church needs to be left behind without experiencing explosive demonstrations of the Holy Spirit that touch the people of its community with transforming grace. The scriptural formula for this greatness comes when the church is placed at the pivotal point of successfully fulfilling the Great Commission, developing disciples, and expanding the Kingdom of God.
About the Author
Raymond F. Culpepper completed his bachelor's degree at Lee University and his master's degree at the California Graduate School of Theology. Additionally, Lee University awarded Culpepper with an honorary D.D. Culpepper received his first Church of God appointment as state youth and Christian education director at the age of 23 and spent years preaching at youth meetings across the nation. Following his service in this capacity, Culpepper felt the call to plant churches. Eventually, he and his family began the Riverchase Church of God. The seedling church, which was eventually renamed Birmingham Metropolitan, grew to over 3,000 members in the 24 years Culpepper served as the church's pastor.
Culpepper is an adept speaker and has given General Assembly addresses, university convocations and has appeared on television broadcasts. He has been elected three separate times to the Church of God's Council of Eighteen, and, in 2004, he accepted the mandate from the General Assembly to serve as first assistant general overseer. In 2008, he was confirmed by the General Council as the general overseer of the Church of God.
Endorsements
This is not your average book on church-growth principles, nor is it similar to a lot of new books by pastors who have discovered a "new way to do church growth." This book is about discovering the presence and the power of God in your life and in your ministry. If that is what you want, then commit yourself to read every word.