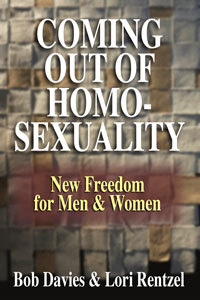 Coming Out of Homosexuality
New Freedom for Men and Women
Highlights
Understanding, guidance and healing strategies for those who struggle with
homosexuality
Addresses the unique issues facing men and women
Includes the stories of other Christians who have battled same-sex desires
Offers proven strategies for healing
Product Details
Do you want God's will for your life -- but struggle with gay or lesbian desires? The authors of this book understand your dilemma. This is not a theoretical book: it is a practical guide for people struggling with same-sex desires. You'll find answers to your questions about what it means to be a man or woman, how your past relates to your present tensions, how biblical principles apply to your daily life, how you can form healthy relationships, and how your healing may eventually prepare you for heterosexual romance and marriage. Along the way you will read stories of other Christians who have dealt with the same issues you are facing and their personal failures and successes. Most of all, you'll find strategies that work because they have been developed and used by real people like you. This book will open up a new level of freedom and depth of insight beyond what you had dreamed possible.
About the Authors
Bob Davies retired in 2001 as the North American director of Exodus International, a worldwide coalition of Christian ministries to men and women overcoming homosexuality. He currently serves as the Ministry Coordinator in the Worship department at the University Presbyterian Church in Seattle, Washington
Lori Rentzel has been a counselor with Love in Action. She is now a freelance writer and editor based in San Rafael, California. She is also the author of Emotional Dependency.
Endorsements
Coming Out of Homosexuality has much to say to both those who think leaving homosexuality is something that can be easily done and those who reject the possibility of it altogether. Through research and testimony, Davies and Rentzel convincingly show that God's power, though not immediately realized, is by no means impotent in healing the homosexual soul.
For the person who has been walking through the desert of homosexuality, this book is going to be like a refreshing drink of water. I recommend it.
This book is reassuringly frank, asking (and answering) the hard questions. I think it will be enormously helpful to Christians struggling with homosexuality and to those who seek to understand and encourage them.
Coming Out of Homosexuality offers the reader far more than a vague hope of healing. It takes the issue of homosexuality by the scruff of the neck and offers realistic expectations to those in the process of overcoming their sexual difficulty. The book presents honest and practical advice to those men and women who want to move from the plateau of being an "ex" anything onto the highway of embracing their full identity in Christ.
The book . . . has dozens of practical and realistic suggestions for helping people change.
One can only wish that this book had been written decades ago to give practical scriptural guidance on how to come out of homosexuality. The book blends compassion and realism, warnings and hope. I will highly recommend this book to those who struggle with homosexuality and despair of finding their way out.