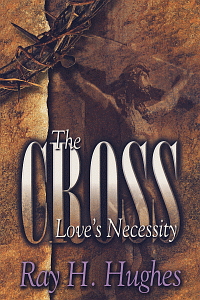 The Cross
Love's Necessity
Product Details
This is the first volume in a series of sermons focusing on the cross. Dr. Hughes publicly presented these sermons on the international Forward in Faith radio broadcast. Each sermon is designed to present a theme, illustrate a truth and set forth a number of conclusions - all of which are highlighted by Dr. Hughes' penchant for Scripture quotations.
About the Author
Expectation filled the night air of September 27, 1948 as the young evangelist Ray H. Hughes gave his dynamic message on "The Answer to the Youth Problem" in the 20,000 seat Hollywood Bowl that was filled to capacity. Newspapers considered him "a vibrant, new voice for America's youth." At the altar call, "a mighty melting came as the Holy Spirit convicted men and women, boys and girls of almost every color and race...and there came a great surging forward to the altars."
The event was sponsored by six Pentecostal denominations as well as independent ministries. It brought national attention to the young evangelist and signaled a new day of cooperation among Pentecostals. From this meeting, Ray H. Hughes rode the wave of growth and expansion of the Pentecostal movement through the Pentecostal Fellowship of North America and the Pentecostal World Conference. His participation culminated at Seoul, Korea, when he preached to over 100,000 souls in 1998.
Hughes administration and leadership abilities were noticed early on when he became youth director for the Church of God in 1952. Not long after serving as youth director and state overseer of Delmarva, he was appointed National Radio Speaker for Forward in Faith, because of his powerful and effective preaching style. Additionally, he served as President of Lee College from 1960 to 1966.
Hughes continued to prove his leadership abilities with his election to the Executive Committee in 1966. While preaching at a convention in Puerto Rico on January 26, 1972, Hughes received word about general overseer R. Leonard Carroll's death. It was only a few days later, January 31, 1972, that the executive council installed Hughes as Carroll's replacement.
Upon his acceptance of the office of general overseer Hughes stated, "Although the task is gigantic in nature, I face it with courage and not with fear." That same year, Hughes moderated the Church of God General Council and General Assembly for the first time in Dallas, Texas. During that assembly, he called the church to a program of "total evangelism." He proclaimed, "There must be public witnessing to complement pulpit preaching." Hughes served as general overseer of the church from 1972-1974, from 1978 to 1982, and finally in 1996. He has since been the featured speaker at interdenominational gatherings, including four Pentecostal World Conferences.