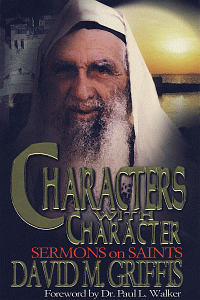 Characters with Character
Sermons on Saints
Product Details
This book explores the lives of Old and New Testament saints and paints portraits of their lives with expository language. Together these stories comprise a mosaic of the human experience. Their strengths are our strengths; their weaknesses, our weaknesses. They are not flawless, yet their frailties were often springboards for triumph. The single factor each of these believers have in common with one another and with many of us is their resolute faith in God.
About the Author

David M. Griffis earned his B.A at Lee University and received his Doctorate in Christian Leadership at the Church of God South American Seminary. From 1974-1982, he held three pastorates in Tennessee and was the Assistant International Youth and Christian Education Director for the Church of God from 1992-1996. He currently serves the same denomination as the Third Assistant General Overseer and has held this position since 2008. Additionally, Griffis is the author of several books including: In Such An Hour and Spirit Wars.
Endorsements
From a rich background of hands-on-ministry, David Griffis paints character sketches of Biblical personalities that relate to our day-to-day lives. David uses his keen insight to not only point out the positive traits, but he brings to our attention that God uses ordinary people with all their human trappings to accomplish His work. I know that readers will be blessed for the time spent in these pages.