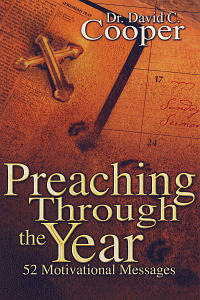 Preaching Through the Year, Volume 1
52 Motivational Messages
Product Details
Among the varied responsibilities assigned to a pastor, preaching is of primary importance; this is the means to strengthen the body of Christ. The sermons in this book are faith-based, field-tested, and fruit-bearing. They will inspire your personal faith and will trigger thoughts and concepts to personalize the material for your local congregation. The Scriptural interpretations are well grounded, the stories are fresh, and the life applications are relevant - focusing on everyday challenges and opportunities.
Included in Preaching Through the Year: 52 Motivational Messages are sermons on such topics as:
The Confidence Quotient
The Way Out of Worry
Have You Heard from God Lately?
When Giving Thanks Is Tough
Unfading Beauty
Here Comes that Dreamer!
This book will provide the preacher with a well of creative ideas, sermon outlines, illustrations, and numerous stories.
About the Author
David C. Cooper holds a B.A. in Psychology from Lee University, a M.Ed. in Counseling from the University of Georgia, and a Doctor of Ministry (D. Min.) from Erskine Theological Seminary. He is an adjunct professor in counseling at Richmont Graduate University in Atlanta, Georgia and serves as Chairman of the Board for the School of Ministry (Church of God). He is a member of the Church of God International Executive Council, the American Association for Marriage and Family Therapy, and the Licensed Professional Counselors Association in the State of Georgia. He serves on the Chaplain's Prayer Committee for the Georgia State House of Representatives and as the Senior Pastor of Mount Paran Church in Atlanta, Georgia.
Dr. Cooper is the author of the following books: For Better, Not Worse: Transforming Your Marriage from a Contract to a Covenant; Apocalypse! A New Look at the Book of Revelation; Written On Our Hearts: Rediscovering the Ten Commandments; Seven Secrets of Success; Faith Under Fire: How Christians Respond to Islam and Other Religions; Repurposing Your Life; Timeless Truths in Changing Times – A Daily Devotional; 10 Steps Toward a Better Life; Get A Grip! Handling Life's Toughest Challenges; Preaching Through the Year Volumes I and II; and his latest work, Experiencing the Power of the Holy Spirit.
Dr. Cooper currently offers two teaching seminars for churches: Maximum Marriage and The One-Month Leadership Manager: Core Values for Life and Ministry. Dr. Cooper is a guitarist, singer and songwriter. He performs his original contemporary Christian music with his band, Open Door, for churches, prisons and urban ministries. He is a featured motivational speaker for businesses and civic organizations, and his messages can be heard on the Discover Life radio program, through the Streaming Faith website, and on the Mount Paran website.