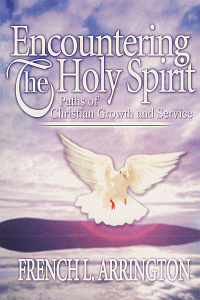 Encountering the Holy Spirit
Paths of Christian Growth and Service
Product Details
A century ago only a handful of people could be identified as Pentecostals. Now about half a billion people around the world belong to the Pentecostal-Charismatic family of churches. The dynamic that produced this phenomenal growth is the rediscovery of the work and ministry of the Holy Spirit.
Our grasp of the person and work of the Spirit may be informed and enlightened by our experience with Him, but undergirding that reality must be a thorough understanding of what God has reveled in His Word.
Encountering the Holy Spirit explores the development of the doctrine of the Holy Spirit in the Bible. As a faithful scholar and skillful exegete, French L. Arrington leads us through the Old and New Testaments, unfolding the revelation of the Spirit's attributes and functions. After a thorough and exhaustive treatment of the Biblical teachings, he addresses matters of experience. The result is a magnum opus that is certain to take its place among the classics of Pentecostal scholarship.
About the Author
French L. Arrington was professor of New Testament Greek and Exegesis at the Church of God Theological Seminary and formerly taught at Lee University, where he chaired the Department of Bible Theology.
He wrote the three-volume Christian Doctrine; A Pentecostal Perspective and numerous books and articles on New Testament themes. Now retired and living in Cleveland, Tennessee, he is a frequent conference speaker and visiting lecturer at schools in the U.S. and abroad.