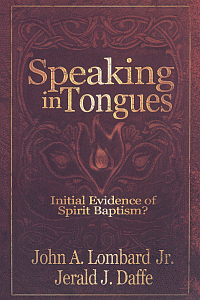 Speaking in Tongues
Initial Evidence of Spirit Baptism?
Product Details
Speaking in Tongues: Initial Evidence of Spirit Baptism? stems from the authors desire for individuals and groups to study carefully the Scriptures, and then, in turn, experience the fullness of the Holy Spirit. When this occurs, congregations will be invigorated and enabled to be "salt" and "light" to the world (Matthew 5:13-15).
About the Authors
John A. Lombard Jr. began teaching at Lee University in 1978. He regularly teaches Introduction to Preaching and Teaching, Biblical Interpretation for Ministry, Expository Preaching, and Internships in Pastoral Studies. He has conducted preaching seminars in several countries and his passion is to challenge and assist each preacher to become the best they can be.
Lombard serves as pastor of the East Cleveland Church of God and as coordinator of the Ministerial Internship Program for the Churches of God in Tennessee. Among his publications is Speaking for God, a refresher study of preaching principles.
Jerald J. Daffe (D.Min., Western Conservative Baptist Seminary) is currently the Professor of Pastoral Ministries at Lee University. Since 1987, he has been teaching such classes as: The Message of the Old Testament, Introduction to Preaching, Ministry of Preaching, Pastoral Ministry, Foundations for Ministry, Pastoral Seminar, and Ministry of Worship.
Daffe's areas of specialty are revivalism, worship, and men's topics. He was a recipient of the Excellence in Teaching Award at Lee University in 1990 and the Excellence in Advising Award in 1999. He previously served the university as the chair of the Department of Bible and Christian Ministries and is currently the coordinator for pastoral ministry majors. Prior to his service at Lee University, Daffe was a professor and director of Christian Service at Northwest Bible College, where he was Teacher of the Year for three consecutive years.
A prolific writer, Daffe has written numerous books, including: Life Challenges For Men, In The Face of Evil: You Can Find Faith, Revival: God's Plan for His People, and Minister's Service Manual for Contemporary Church Celebrations. He is also a writer for the Evangelical Sunday School Lessons Commentary and has published over 50 articles.
Endorsements
Daffe and Lombard have written a well-reasoned apologetic for "tongues" as initial evidence of Spirit baptism. They give careful attention to the experiences of first-century Christians in the Book of Acts. Their exposition leaves no doubt that Holy Spirit baptism is a post-regeneration event and was the normative experience of early Christians. The correlation of "speaking in tongues" and Spirit baptism in the Book of Acts is undeniable. The Biblical evidence in Speaking in Tongues: Initial Evidence of Spirit Baptism? deserves to be considered by anyone seeking to understand the work of the Spirit in the life of the believer.