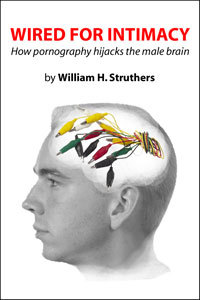 Wired for Intimacy
How Pornography Hijacks the Male Brain
Highlights
Written by a professional neuroscientist who unpacks how pornography affects the
male brain
Offers a healthy model of redeemed masculinity
Gives practical hope for Christians wanting freedom from porn addiction
Explains the complexities of sexual development and response
Product Details
Pornography is powerful. Our contemporary culture has been pornified, and it shapes our assumptions about identity, sexuality, the value of women and the nature of relationships. Countless Christian men struggle with the addictive power of porn. But common spiritual approaches of more prayer and accountability groups are often of limited help.
In this book, neuroscientist and researcher William Struthers explains how pornography affects the male brain and what we can do about it. Because we are embodied beings, viewing pornography changes how the brain works, how we form memories and make attachments. By better understanding the biological realities of our sexual development, we can cultivate healthier sexual perspectives and interpersonal relationships. Struthers exposes false assumptions and casts a vision for a redeemed masculinity, showing how our sexual longings can actually propel us toward sanctification and holiness in our bodies.
With insights for both married and single men alike, this book offers hope for freedom from pornography.
About the Author
William Struthers (Ph.D., University of Illinois at Chicago), is associate professor of psychology at Wheaton College in Wheaton, Illinois where he teaches courses on behavioral neuroscience, men and addictions and the biological bases of behavior. His theoretical research is in the area of neuroethics, the biological bases of spirituality and personhood, and the nature of integration in psychology. He is also interested in the Anglican tradition and in science/faith dialogue issues.
Endorsements
This book opens the door for Christians to talk about men, sex and addiction in a candid and intelligent manner.
Wired for Intimacy is a groundbreaking book on the brain chemistry of sexual addiction. Every man needs to understand how his sexual choices affect this crucial part of his humanity. It will be a great help toward sanctification for those who embrace its message.
Finally there's a book that scientifically quantifies what those of us who work in the field of sexual addiction have long understood: pornography powerfully impacts the brain. Wired for Intimacy offers a clear and complete description of the brain and its interplay with human sexuality. Struthers marries an advanced understanding of neurobiology with a thoughtful theology of sexuality and a comprehensive discussion of intimacy. The result is a very readable, understandable book that goes far beyond the typical 'porn is wrong' premise to illustrate why from a biological, emotional, relational and spiritual perspective. Wired for Intimacy surpasses the typical recovery book in its scientific foundation and careful scholarship. This is a much-needed and welcome addition to the Christian literature addressing the pandemic of pornography.
Fascinating and highly informative.