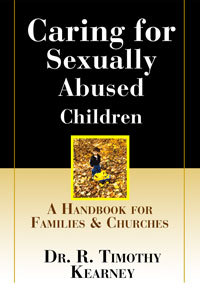 Caring for Sexually Abused Children
A Handbook for Families & Churches
Highlights
Helps you recognize and respond to signs of child sexual abuse
Wrestles with theological questions like "Why does God let this happen?"
Examines issues of disclosure and therapy
Discusses how to care for caregivers of children who have been sexually abused
Shows how the Christian community can offer healing, justice, forgiveness, restoration and protection
Nontechnical, compassionate, practical
Offers suggestions for becoming an abuse-aware church
Product Details
Dealing with the sexual abuse of a child is painful and difficult. When it happens to children within our church families, we all are affected and wonder how to respond.
What help should we seek?
What support can we offer?
What healing is possible?
What can we do to prevent abuse in the future?
In this warm and hopeful book, R. Timothy Kearney shows how healing, justice, forgiveness, restoration and protection can come through God's people in the Christian community.
About the Author
Kearney completed his Ph.D. in clinical psychology and M.A. in theology at Fuller Theological Seminary. He is director of mental health at a community health center in Connecticut.