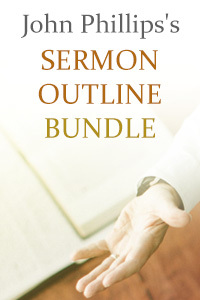 John Phillips's Sermon Outline Bundle
Highlights
100 Old Testament and 100 New Testament Outlines on Varying Topics
Product Details
A clear, concise outline is the cornerstone of a well-developed sermon. That's why hard-working pastors and teachers gather fresh ideas and creative approaches from a variety of sources.
This collection presents 200 sermon outlines by one of today's most popular Bible teachers and conference speakers, John Phillips. Some outlines are short and pithy, others are longer and more detailed, but all of them will help the busy preacher build and deliver powerful, life-changing messages.
About the Author
John Phillips (D.Min.) served as assistant director of the Moody Correspondence School, one of the world's largest Bible correspondence ministries. He also taught in the Moody Evening School and on the Moody Radio Network. Now retired, Dr. Phillips remains active in his writing and preaching.
Endorsements
John Phillips writes with enthusiasm and clarity,... cutting through the confusion and heretical dangers associated with Bible interpretation.
Dr. Phillips has the rare gift of bringing diverse Scripture passages together so that we see beautiful patterns in that Scripture, and as a result, better understand the big picture.
If John Phillips were an artist, he would be numbered among the masters. Paper is his canvas, words are his oils, and the pen is his brush. With these instruments he has produced the Exploring commentaries and books. For more than twenty-five years, John Philips' books have been my companions. As a busy pastor, I turn to them for instruction, illumination, illustration, and even alliteration - and I never go away disappointed!
Products Included In This Bundle