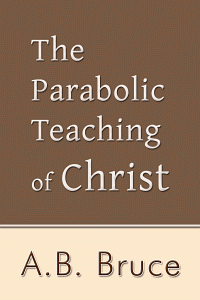 The Parabolic Teaching of Christ
A Systematic and Critical Study of the Parables of Our Lord
Product Details
This book presents an in-depth expositional study of the parables of Jesus Christ. Bruce systematically examines the forms of speech and provides explanation and analysis.
About the Author
Alexander Balmain Bruce (1831-1899) is recognized as one of the most distinguished biblical scholars of his day. He was appointed as professor of theology, apologetics and New Testament exegesis in the Free Church College of Scotland. Some of his many books include: The Kingdom of God, Apologetics or Christianity Defensively, The Epistle to the Hebrews, and The Chief End of Revelation
Endorsements
A systematic, critical study of the parables of Christ that includes in its treatment similes and other forms of speech. Will richly reward the careful reader
Professor Bruce brings to his task the learning and the liberal and finely sympathetic spirit which are the best gifts of an expositor of Scripture. His treatment of his subject is vigorous and original.
The volume should have a place next to Trench on the Parables on the shelves of every student of the New Testament. It is one of the most valuable contributions to the study of the words of Christ that has appeared of late years. The treatment of what Professor Bruce calls 'Parable-germs,' or the undeveloped parables of each gnomic expressions, 'They that be whole have no need of a physician,' etc, or of such similes as that of the builders on the rock and on the sand, is rightly undertaken in connection with the more elaborated pictures of the parables properly so called.