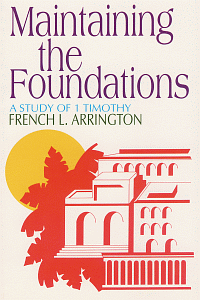 Maintaining the Foundations
A Study of 1 Timothy
Product Details
Avoiding technical terms and phrases, Dr. Arrington skillfully analyzes the letter of the apostle Paul to Timothy and beautifully applies the message to today's world. He demonstrates clearly that while change is a vital dimension in the life of a Christian, care must be taken not to erode the foundations of one's faith.
About the Author
French L. Arrington, an ordained Church of God minister, attended Lee College and graduated from the University of Tennessee at Chattanooga. He earned his Master of Divinity and Master of Theology degrees from Columbia Theological Seminary. His Ph.D. in Biblical Languages and Pauline Studies is from St. Louis University.
A respected Bible scholar and teacher, Dr. Arrington has served his denomination as a pastor, a professor at Lee College, and as chairman of the Department of Biblical Studies at Lee College. He is the author of many journal articles and several books. He contributed articles to The Complete Biblical Library and edited The Full Life Study Bible. Among his books is Acts of the Apostles, published by Hendrickson Publishers.
Endorsements
The problems of society at large translate into feelings of anxiety, frustration, and insecurity for the individual. The shakier his world gets, the more intense his search for stability and security becomes. Thus the interest in "roots," and the push back to "basics." When the building is about to collapse, it is the foundation that must be checked...In simple yet eloquent terms, Dr. Arrington brings the scriptural truths of 1 Timothy to bear on current questions concerning worship, leadership, and family. He points out that the foundation of a successful and secure life can be maintained through fidelity to the Word of God.