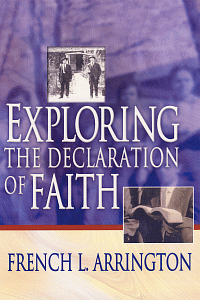 Exploring the Declaration of Faith
Product Details
For more than half a century, the Declaration of Faith of the Church of God has encapsulated the cardinal doctrinal beliefs of the church. The statements express the understanding of doctrine as it has been accepted by the church since its beginning in 1886. They reflect the church's agreement about the major tenets of dogma as found in Scripture.
Throughout the years since the adoption of the Declaration of Faith, informal commentaries about it have been written by many pastors. Until now, however, no serious scholarly commentary has been published. At the invitation of Bishop Dennis McGuire, Dr. French Arrington has undertaken the present work.
Pastors and teachers throughout the Church of God will find Exploring the Declaration of Faith a useful resource for helping church members and inquirers understand in greater detail the doctrinal positions of the Church of God.
About the Author
French L. Arrington, an ordained Church of God minister, attended Lee College and graduated from the University of Tennessee at Chattanooga. He earned his Master of Divinity and Master of Theology degrees from Columbia Theological Seminary. His Ph.D. in Biblical Languages and Pauline Studies is from St. Louis University.
A respected Bible scholar and teacher, Dr. Arrington has served his denomination as a pastor and Lee College as professor and chairman of the Department of Biblical Studies. He is the author of many journal articles and several books. He contributed articles to The Complete Biblical Library and edited The Full Life Study Bible. Among his books is Acts of the Apostles, published by Hendrickson Publishers.