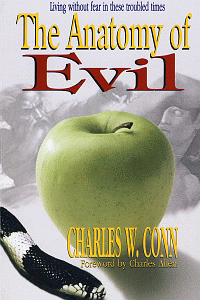 The Anatomy of Evil
Living without Fear in these Troubled Times
Product Details
Ours is a day of inexplicable evil. Or is it?
Who can fathom the mass suicide of 913 men, women, and children who followed their false messiah to the jungles of Guyana? What possessed the mesmerized disciples of Charles Manson to mutilate their victims without a pang of conscience? How do you account for the systematic slaughter of thousands by political madmen such as Pol Pot and Idi Amin?
While some would flatly deny any supernatural significance behind today's appalling headlines, others find themselves stricken with fear of Satan's strategies. Charles W. Conn believes both are wrong.
In The Anatomy of Evil, he openly confronts the chaos of our darkened world with the extraordinary insight and authority - the unique insight available to believers and the timeless authority of Scripture - and shows how Christians should respond.
About the Author
Charles W. Conn (1920-2008) first fell in love with the Word of God as a young man and was its student for over sixty years. An influential figure in the Church of God, Conn served in multiple church and para-church capacities, including Assistant General Overseer of the Executive Committee, President of Lee College, and Editor-in-Chief of Church of God Publications. In addition to his various other roles, he was an avid writer and penned more than twenty books.