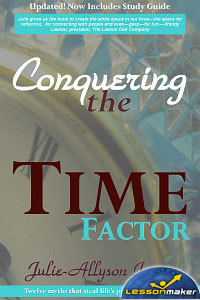 Conquering the Time Factor
Twelve Myths that Steal Life's Precious Moments
Highlights
Includes a Helpful Study Guide
Product Details
Twelve Myths that Steal Life's Precious Moments
If balancing the lives of your family members and your work responsibilities and your church commitments and your community involvement is leaving you breathless and overwhelmed … There is Hope! Right Here and Right Now! In Conquering the Time Factor, author Julie-Allyson Ieron blasts the myths that are keeping you from making the most of the moments, hours, days, and years God has entrusted to you.
About the Author
Julie-Allyson Ieron (pronounced: I-RUN) is passionate about coming alongside others to encourage them to pursue an ever-deepening relationship with Christ. She is a frequent guest on national radio and TV broadcasts—and is available as a Bible-centered speaker for your conference, seminar, or retreat. Visit her website: www.joymediaservices.com or her devotional blog: womencareforagingparents.blogspot.com.
Endorsements
Julie effectively blasts the myths that often govern our concept of time. Highly recommended.
Julie teaches you how to say 'no' and what to say 'no' to.
Conquering the Time Factor gives us the tools to create the white space in our lives - the space for reflection, for connecting with people and even for fun.
After just a few chapters, I found myself already operating more efficiently.