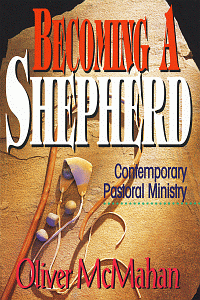 Becoming a Shepherd
Contemporary Pastoral Ministry
Product Details
In this day of advertising buzzwords, media sound bites, and high-tech phrases - in this time of uncertain theological interpretations, strange theories of Scripture, and confused meanings of ministry - there is an urgent need for a practical, down-to-earth, scripturally sensitive look at the Word in action for relevant church leadership in a secularized society.
Oliver McMahan achieves this goal by accurately defining biblical terms and succinctly carving out an expositional understanding of the scriptural context for effective Kingdom life in tempestuous times.
Becoming a Shepherd is one of those foundational texts to be referred to again and again by pastors, church leaders, and laypersons in every phase of church ministry. It is a reliable resource for clarifying and communicating revelation of God through the church to the world.
About the Author
Oliver McMahan is associate dean and associate professor of pastoral care and counseling at the Church of God Theological Seminary. He directs the School of Ministry/Western Division. He served on the Executive Council of the Church of God from 1994-1996 and the General Board of Education from 1992-2000. He received the doctor of ministry degree from Brite Divinity School at Texas Christian University and the Ph.D. from Georgia State University. His published writings include: Becoming a Shepherd, Scriptural Counseling, and Deepening Discipleship.