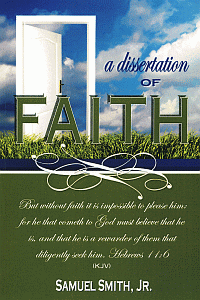 Product Details
A Dissertation of Faith is a primer on the great subject of faith. Dr. Smith explores what faith is, the power of faith, the role suffering plays in faith, what faith has to do with relationships and current dilemmas, what faith can do, and how we can build our faith. Included is a helpful list of Scriptures used.
About the Author
Dr. Samuel Smith, Jr. is a man of God, who strives to promote the Kingdom of God. He has been in the preaching ministry for twenty-four years and is pastor of a growing church in north California. Dr. Smith has preached across the USA, has spoken in district and state conventions, has given men's workshops, and has led workshops on sexual harassment.
He is the found of the Bible Based Ministries; he holds a Ph.D. in Christian Education and several other disciplines; and, he is the president of the Bible Based School of Theology. Now, he puts pen to paper in this outstanding work on FAITH!
Dr. Smith is married to Janice M. Smith and has three children and four grandchildren, whom he loves and cherishes.