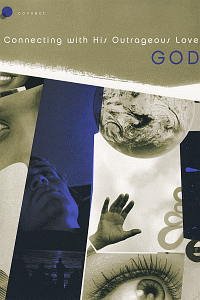 Connect Series: God
Connecting with His Outrageous Love
Product Details
No One Could Love You More
This Bible study in the CONNECT series will help you explore the faithful love of the Father, the Son, and the Holy Spirit. Experience the power of life in Christ as you learn how to hear and trust God's gentle voice of truth.
The CONNECT Bible study series provides a foundational study format for lifelong transformation. Deeply biblical and rooted in Scripture, each study is relevant to real-life issues. You'll notice a grace-based approach to faith, so no matter where you are in the journey, freedom and acceptance can be yours. Explore your heart and consider the ways of Jesus for a truly transformative experience!
About the Publisher
NavPress is a division of The Navigators, an international Christian organization that began in the 1930s through the call of God on Dawson Trotman. Dawson desired to teach the discipleship principles he had found beneficial in his own life to others.
The calling of The Navigators is to advance the Gospel of Jesus and His Kingdom into the nations through spiritual generations of laborers living and discipling among the lost. The Navigators' rich heritage and hands-on experience has helped the ministry become a leader in personal spiritual development, discipleship, and reaching those who don't yet know Christ.
NavPress' mission is to advance The Navigators' calling by publishing life-transforming materials. We are committed to serving people by facilitating and motivating spiritual growth through products that are biblically rooted, culturally relevant, and practical.
Endorsements
Drawing on the experience, biblical depth, and creativity of a skilled team of Navigator staff, these studies provide a pathway into the Scriptures for men and women whose learning styles and way of looking at the world are impacted by our increasingly postmodern society.
The CONNECT Series is the best stuff I have seen out there for the eighteen to thirty-five generation - and I've seen a lot.
The topics are engaging and relevant. They are easy to lead because there is so much great material to discuss. Even more importantly, the material has tremendous potential to change lives.