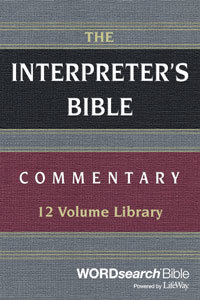 Highlights
12-Volume Set
Originally Published in 1953
From a Wesleyan Holiness Perspective
Product Details
The original Interpreter's Bible, published in 1953, has been serving preachers and teachers for over half a century. The 12 volumes are accurate, conservative, and nearly impossible to find in print. Covering the meaning of every Bible passage, this comprehensive commentary emphasizes the Christian values found in the Bible text that ought to be preached and taught.
Rediscover the Original Edition of The Interpreter's Bible
Every passage of the Old and New Testament follows the same outline: Introduction, Exegesis, and Exposition. Plus, you'll find a map for nearly every book of the Bible and a wealth of general articles on history, chronology, translations, the text in general, and more.
Introductions give you valuable background information on the biblical authors, times, customs, and social settings relevant to each passage.
Exegesis provides a clear explanation of the text. Revealing explorations of historical and geographical settings, archaeological discoveries, contemporary language and customs, religious teachings and writings, original sources, the author's purposes—these and many other aids in understanding what a given passage means in its own setting and what it means today.
Exposition helps you to apply the Scripture and gives you fresh ways to teach and preach the text. You'll also find many practical applications and illustrations that will make your lessons more memorable.
You'll discover The Interpreter's Bible gives you valuable commentary that inspires great preaching and teaching. For example, in Philippians 1:6, where Paul says, "...He who began a good work in you will perfect it." The Interpreter's Bible expounds on this truth wonderfully: "Intelligence can make unselfishness reasonable, but there is no intelligence that can convert self-will because we were never designed to complete our righteousness by willpower alone."
You'll consult this great work often for your preaching and teaching. The Interpreter's Bible is the most complete and efficient working tool ever devised for the preacher and teacher of God's word. The best minds of our time, among both biblical scholars and preachers, have shared in the making of The Interpreter's Bible. The editors, consulting editors, and contributors, all 148 of them, have been enlisted from all parts of the English-speaking world and represent a cross-section of Protestantism. No labor or expense has been spared to make this work Christendom's most comprehensive commentary.
Check out a sample of this commentary by clicking on the yellow "Sample" button under the book cover on this page. View a demonstration of The Interpreter's Bible in Wordsearch in the video above.
Endorsements
A welcome addition to anyone who wants to study God's Word
... it amply fulfills its purpose in a manner both scholarly and religious.