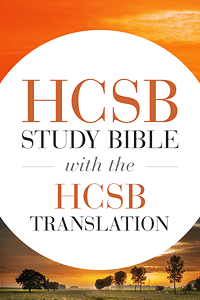 HCSB Study Bible with the HCSB Translation
Highlights
Includes the Holman Christian Standard Bible and the Holman Christian Standard Study Bible Notes - the electronic equivalent of the print HCSB Study Bible
Bible text links to Strong's Numbering System, double click on any word and get the Greek or English equivalent
Optimal equivalence
290 word studies, 141 photographs, 62 timelines, 16 illustrations/reconstructions, and 59 maps
One-year Bible reading plan
Product Details
Developed in direct response to what consumer focus groups asked for, only one study Bible delivers more than you'd expect-right where you'd expect it.
When reading a passage in the Bible, you shouldn't have to wonder where to find supporting reference notes and commentary that go along with it. That's why the HCSB Study Bible-featuring approximately 15,000 study notes-is designed so that every clarifying resource is there ready to be used with the biblical text to which it refers. You'll never again forget what you were looking for, because the pertinent note, map, chart, word study, or illustration is already there. And when an even deeper view is desired, there are also introductions for each book, outlines and timelines, a concordance, and more. For the growing believer whose desire is to know Scripture more intimately and live out its loving instruction, the HCSB Study Bible always keeps you and God on the same page.
100 scholars and English stylists from 17 denominations, prayerfully, translated what is one of the most significant Bible translations available, the Holman Christian Standard Bible (HCSB). Taking into account the significant advancements in scholarship, translation theory, and contemporary English usage, the HCSB will satisfy both those new to the faith and seasoned scholars. While there are many reasons why the HCSB was produced, there are two extremely significant ones below.
1.English is changing rapidly, and Bible translations must keep pace.
More than 1.3 billion people speak or read English as a primary or secondary language, and this widespread usage forces rapid changes. Words and phrases that were commonly used in the recent past are no longer part of contemporary speech, often sounding strange to modern ears. The HCSB reflects linguistic advances in vocabulary, grammar, punctuation and formatting while it retains meaningful theological terms.
2. Advances in biblical research provide new data for Bible translators.
Biblical scholars today actually have better information about ancient texts than scholars did years ago. While translations made even in the last 10 or 20 years do not reflect some of these significant advances in research, the HCSB incorporates vast amounts of this information. This fact led Dr. Peter Flint, dead sea scroll scholar at Trinity Western University, to write, "The Holman Christian Standard Bible is one of the most textually sophisticated English Bibles available anywhere."
What's all this mean? It means in the HCSB you'll find God's personal name (Yahweh), the use of "Messiah" in the New Testament, the use of "slave" in the New Testament, just to name a few examples. Also, you'll notice the contemporary speech patterns in the HCSB mean that words like "behold" and "shall" are not used. Instead, words or phrases that are common today can be found in their place. The list goes on and on.
Also, it is important to note the HCSB translation philosophy, Optimal Equivalence. It is widely known that the Bible's original Hebrew, Greek, and Aramaic manuscripts have words and phrases for which there is no English equivalent. Translating these texts into the English language is a painstaking process of rendering the intended meaning with a balance of accuracy and ease of understanding.
An important distinction between modern Bibles has to do with the translation philosophy chosen by their team of scholars. Traditionally, some have placed a higher value on word-for-word accuracy (Formal Equivalence) and others have emphasized a thought-for-thought approach-striving for a greater level of readability (Dynamic Equivalence). But as the scholars who have worked on Bibles using different approaches have said, no English translation can be fully Formal or fully Dynamic. All translations are a balance of both.
The HCSB employs a first-of-its kind translation philosophy known as Optimal Equivalence, which seeks to achieve an optimal balance of literary precision and emotive clarity through a comprehensive analysis of the text at every level. This process assures maximum transfer of both words and thoughts contained in the original.
Endorsements
Someone gave me the Holman Christian Standard Bible as a gift. I started using it in my morning devotionals and I fell in love with it. I love the accuracy of it. I love that it champions the veracity of God's Word. I love the readability of it. Let me tell you something—this is a version I've been looking for.
I really appreciate the Holman Christian Standard Bible translation. It is very readable, with a great reference system, and my theologian friends tell me is very faithfully reproduced. I highly recommend it.
The Holman Christian Standard Bible is a translation that the common man can read with confidence and understanding.
I gladly and wholeheartedly endorse the Holman Christian Standard Bible. I'm so glad that the translators approach their work with fear and with trembling. It's readable. It's accessible, but it is accurate and the true Gospel is contained in this.
I would recommend the Holman Christian Standard Bible to new believers and seasoned scholars alike. The translation is easy to read and thoroughly researched.
Holman Bible Publishers have performed a great service for the Christian community in their publication of the HCSB Study Bible. Using their own HCSB text, they bring to the readers' fingertips a wealth of study aids: timeines, word studies, cross references, alternate renderings, verse-by-verse clarifications—everything is there. The volume adds even more value through its excellent illustrations, photos, and skillfully written essays on critical topics. Altogether the Holman Christian Study Bible is a must-have tool for both personal Bible study and local church ministry.
The HCSB Study Bible offers a wealth of resources, knowledge and insight for anyone wanting to study the Word of God. Very Impressive.
The HCSB Study Bible is a gold mine for Pastors, Bible Study Leaders, Sunday School Teachers, and anyone who wants to make the best of their personal study and preparation. The combination of accurate translation, readability, scholarly commentary, and user friendly tools make it a resource that you will want to add to your study library.
Reading the Bible is one thing, having the tools to study it is quite another. The HCSB Study Bible presents an incredible opportunity to uncover the deep things of God through His Word. This investment is guaranteed to reap a vast spiritual harvest in your life. This tool will help you to dive in deeply to the rich things of God. Read. Uncover. Dig Deep . . .and be blessed.
The strength of the HCSB Study Bible lies in the recognition and emphasis on the supremacy of Scripture. Helpful tools are immediately accessible to engage the student of the Bible with the ultimate purpose of life transformation. Utilization of knowledge from distinguished scholars serves as a tremendous asset. The HCSB Study Bible is a comprehensive resource that will enable readers to encounter God through interactions with His Word.
Products Included In This Bundle