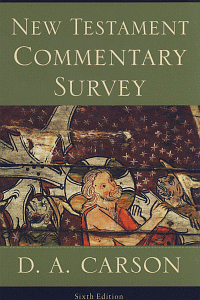 New Testament Commentary Survey
Highlights
Named as the Master's Seminary's 850 Best Books for Biblical Expositors
Product Details
This much-anticipated sixth edition of the New Testament Commentary Survey offers students and pastors an updated look into available resources on the New Testament. Pastors, seminarians, and theology students will eagerly welcome this invaluable tool into their biblical studies library. In this succinct yet thorough survey, Carson examines sets, one-volume commentaries, and New Testament introductions and theologies, before offering extensive comments on the available offerings for each New Testament book, noting intended audience, levels of difficulty, and theological perspective. He records the publisher, price, and current publication status, identifies those texts he considers overpriced, and advises readers when to delay purchase for forthcoming works. The book concludes with a useful "Best Buys" section where Carson indicates the most valuable works for each individual New Testament book.
About the Author
D. A. Carson (PhD, University of Cambridge) is research professor of New Testament at Trinity Evangelical Divinity School. He is the author or editor of more than forty books.
Endorsements
An incredibly informative and wonderfully fun book. There is an extraordinary amount of information packed into its pages and the fun comes from considering one's own preferences and then alternately agreeing or disagreeing with Carson's comments. . . . This book will be of continued benefit to theological students.
If you are preparing a new sermon series and looking for advice on commentaries, you must consult . . . the New Testament Commentary Survey. . . . [It] will help to save you lots of money in the long run.
A very useful tour of past and current resources. . . . The author concisely evaluates, sometimes very frankly, various contributions coming from different perspectives. . . . His comments are incisive, always enlightening, even provocative at times. . . . Carson avoids most popular treatments, leaving room for more scholarly, or at least middle-level works. . . . Preachers will benefit from the numerous comments on expositions and semi-popular works. . . . With the rapid and unceasing publication of commentaries, this guide will be useful for ministers and theological students who wish to be up to date in fields becoming more and more specialized. Here, then, is an invaluable guide, a small and inexpensive book, but one that will help you buy the best resources available.
Skillfully navigate[s] the dense terrain of the commentary world and offer[s] sage advice for those engaged in biblical study. . . . Readers will certainly be helped in making informed decisions about how best to spend both their time and money.
[Carson's] advice about commentary selection requires serious consideration. . . . Though short, this book is a tsunami of practical information. . . . The layout, including an author index for cross reference, makes it fairly easy for one to look up Carson's opinion of individual commentaries on a particular book. . . . Carson's work is indispensable for at least a couple of reasons; for one thing, he is theologically conservative. He is well versed in the various trends of the theological academy, and he does not shy away from recommending commentaries that discuss ideas with which many conservatives would disagree. However, he notes in his recommendation the particular bent of the author so that the student can read with discernment. For another thing, Carson's work is important because it is current. . . . [This] up-to-date information is handled engagingly. Even though this could be a book sculpted in shades of dull grey, Carson's writing style enlivens the landscape. . . . While the style of his writing is interesting, the content of his writing is practical. . . . No one offers a better guide to building a New Testament Commentary library. . . . This survey of New Testament study resources is a must read for those who want to use the best commentaries as they study, preach, and teach the New Testament.