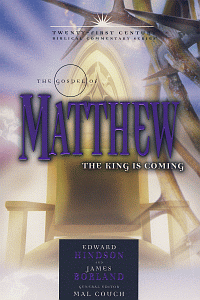 Twenty-First Century Biblical Commentary Series: Matthew
The King Is Coming
Highlights
A commentary for the twenty-first century
Study questions at the end of each chapter
Challenges you to follow the king wherever He leads you
Product Details
Are you following the King of Kings?
The Gospel of Matthew is all about the King--the King of the Jews, the King who came to die to save His subjects, the King of Kings. That King is Jesus Christ. Matthew focuses on both the first and second comings of Christ, with the assurance that in both cases, indeed the King is coming!
Matthew, the tax collector turned disciple, writes to Jewish believers and unbelievers alike. For the believers, he emphasizes the legitimacy of Jesus as the long-awaited Jewish Messiah. For the unbelievers, he portrays the One who is the Savior of all people everywhere. His arguments are cogent, his style is vibrant, and his portrayal of Christ is magnificent.
Charles Spurgeon said it best when he proclaimed, "Come just as you are, all guilty, empty meritless and fall before the great King. And see if He will cast you away. Jesus is ready to pardon you...never tolerate low thoughts of Him. You may study, look and mediate, but Jesus is a greater Savior than you think Him to be, even when your thoughts are at their highest."
Throughout Matthew's gospel, he draws our attention to the One who is rightful King of Israel, Jesus is portrayed as being born a King, living and dying as a King, and coming again as the ultimate King of Kings. As you read this gospel and study this commentary, you will be challenged to become His disciple and follow Him wherever He leads you.
About the Author
Edward Hindson is the Assistant Chancellor, Professor of Religion, and Dean of the Institute of Biblical Studies at Liberty University in Lynchburg, Virginia. He has authored thirty books, served as co-editor of several Bible projects, and was one of the translators for the New King James Version of the Bible. Dr. Hindson serves as the speaker on The King Is Coming international telecast.
James Borland is professor of Biblical Studies at Liberty University in Lynchburg, Virginia, and serves on the executive committee of the Evangelical Theological Society, of which he is a past president. he is the author of Christ in the Old Testament and Introduction to the New testament. With more than thirty years of teaching experience, Dr. Borland specializes in biblical theology and New testament studies.
Endorsements
Dr. Paige Patterson, Southeastern Baptist Theological Seminary