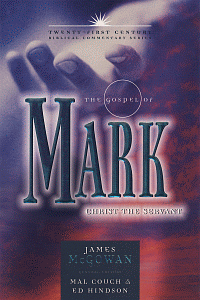 Twenty-First Century Biblical Commentary Series: Mark
Christ the Servant
Highlights
A commentary for the twenty-first century
Study questions at the end of each chapter
Guides you to be a disciple of Jesus Christ
Product Details
Jesus Christ, the Son of Glory, left his home in heaven to serve mankind, "The whole purpose of his life on earth was to give and receive or take". He came as the revelation of God, but was born in a manger, and worked as a carpenter. From the beginning of his ministry He healed the sick, confronted the false teachers, fed the hungry, taught his disciples, and ultimately gave his life a ransom for many.
The Gospel of mark is a breathtaking fast-paced account of the ministry of Jesus Christ. Mark pictures Jesus as accepted by the general Jewish public but rejected by the Jewish leadership. As this tension grows, the narrative propels the reader toward the final crisis (the crucifixion) and its ultimate resolution (the resurrection).
James Mcgowan brings the characteristic of Christ the servant- His love, His compassion, His selflessness- into sharper focus. Are you faithful servant of Christ? This commentary will bring you face to face with the greatest servant of all, and challenge you to be just like him.
About the Author
Dr. James McGowan, who earned this Th.D.from Louisiana Baptist Theological Seminary, is adjunct professor of Theology and Hebrew at Tyndale Theological Seminary in Forth Worth,Texas, He is also the education pastor at Sugar Land Bible Church in Sugar Land,Texas and the head of Tyndale Seminary's extension school in Sugar Land.
Endorsements
Dr.Paige Patterson, Southeastern Baptist Theological Seminary
I am honored to recommend The Twenty-First Century Commentary Series. I know I can trust the evangelical soundness and doctrinal integrity of the authors who are now laboring to give us books that will serve the cause of Christ for generations to come
Dr.Tim LaHaye, Co-Author of the "Left Behind series.