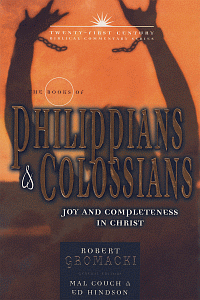 Twenty-First Century Biblical Commentary Series: Philippians and Colossians
Joy and Completeness in Christ
Product Details
Are Christians really different than anyone else?
What does a real Christian look like? What is Christianity really all about? Paul's letter to the Philippians and Colossians answer these ponderings through their unique emphasis on practical Christian living. These books present the basic beliefs of the Christians are to make those truths the foundation of everything they think and everything they do.
In Philippians, Dr. Gromacki uses Paul's teaching to show Christians how they should conduct themselves in times of suffering, in witnessing for Christ, in preserving unity, in overcoming anxiety, in imitating Christ, and in cultivating joy and peace in their lives.
In Colossians, Dr. Gromacki explains how Paul sets forth the sovereignty of Jesus Christ over all creation and the church, and in particular, over every individual person. The reader is brought face to face with the majesty and glory of Christ, and challenged to throw aside other worldviews and philosophies in order to live in holiness before the Lord.
In both these epistles, Paul seeks to turn the attention of believers away from their old, sinful lifestyle to newness in Christ. Believers are challenged to grab hold of the righteousness that is accredited by faith, that might know Christ, "and the power of His resurrection and the fellowship of His sufferings, being conformed to His death."
About the Author
Robert Gromacki is Distinguished Professor Emeritus of Bible and Greek at Cedarville University, where he has taught for more than forty years. Outside of his ministry at Cedarville, he is perhaps best know for his New testament Survey, a major textbook in colleges and seminaries throughout the United States. His other publications include The Virgin Birth, Salvation is forever, and The Holy Spirit, a part of the Swindoll Leadership Library Series. Dr.Gromacki received Th.M from Dallas Theological Seminary and his Th.D from Grace Theological Seminary. For the last several years, Dr.Gromacki has served as pastor of Grace Community Church in Washington Court House, Ohio.
Endorsements
"I'm honored to recommend the Twenty -First Century Biblical Commentary Series. I know I can trust the evangelical soundness and doctrinal integrity of the authors who are now laboring to give us books that will serve the cause of Christ for generations to come."