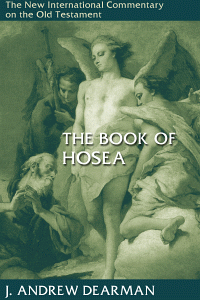 Product Details
In this solid theological commentary on the book of Hosea, J. Andrew Dearman considers the prophetic figure's historical roots in the covenant traditions of ancient Israel, includes his own translation of the biblical text, and masterfully unpacks Hosea's poetic, metaphorical message of betrayal, judgment, and reconciliation.
About the New International Commentary Old Testament Series

"In the Old Testament we read God's word as it was spoken to his people Israel. Today, thousands of years later, we hear in these thirty-nine books his inspired and authoritative message for us."
These twin convictions, shared by all of the contributors to The New International Commentary on the Old Testament, define the goal of this ambitious series of commentaries. For those many modern readers who find the Old Testament to be strange and foreign soil, the NICOT series serves as an authoritative guide bridging the cultural gap between today's world and the world of ancient Israel. Each NICOT volume aims to help us hear God's word as clearly as possible.
Scholars, pastors, and serious Bible students will welcome the fresh light that this commentary series casts on ancient yet familiar biblical texts. The contributors apply their proven scholarly expertise and wide experience as teachers to illumine our understanding of the Old Testament. As gifted writers, they present the results of the best recent research in an interesting manner.
Each commentary opens with an introduction to the biblical book, looking especially at questions concerning its background, authorship, date, purpose, structure, and theology. A select bibliography also points readers to resources for their own study. The author's own translation from the original Hebrew forms the basis of the commentary proper. Verse-by-verse comments nicely balance in-depth discussions of technical matters — textual criticism, critical problems, and so on — with exposition of the biblical writer's theology and its implications for the life of faith today.
About the Author

J. Andrew Dearman is professor of Old Testament at Fuller Theological Seminary's regional campus in Houston, Texas. His books include Religion and Culture in Ancient Israel and the New International Version Application Commentary Series volume on Jeremiah and Lamentations.
Endorsements
This is a welcome addition to the NICOT series on one of the most important prophets of ancient Israel. The introduction is especially helpful on Hosea's use of metaphors and similes, and readers will not be disappointed by Dearman's thorough and penetrating exegesis.