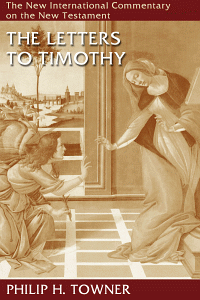 NICNT: The Letters to Timothy and Titus
Product Details
The most accessible, most broadly pitched full-length commentary on Timothy and Titus, this NICNT volume explores Paul's three letters to Timothy and Titus within their historical, religious, and cultural settings.
In his introduction, Towner sets out the rationale for his historical approach, questions certain assumptions of recent critical scholarship, and establishes the uniqueness and individuality of each letter. Significantly, Towner's work displays unprecedented interaction with four recent major commentaries on these Pauline letters. Centered on an outstanding translation of the Greek text and including thorough footnotes, bibliographical citations, and indexes, Towner's commentary on Timothy and Titus is sure to become a standard reference for busy pastors, students, and scholars.
About the New International Commentary New Testament Series
". . . undertaken to provide earnest students of the New Testament with an exposition that is thorough and abreast of modern scholarship and at the same time loyal to the Scriptures as the infallible Word of God."
This statement reflects the underlying purpose of The New International Commentary on the New Testament. Begun in the late 1940s by an international team of New Testament scholars, the NICNT series has become recognized by pastors, students, and scholars alike as a critical yet orthodox commentary marked by solid biblical scholarship within the evangelical Protestant tradition.
While based on a thorough study of the Greek text, the commentary introductions and expositions contain a minimum of Greek references. The NICNT authors evaluate significant textual problems and take into account the most important exegetical literature. More technical aspects — such as grammatical, textual, and historical problems — are dealt with in footnotes, special notes, and appendixes.
Under the general editorship of three outstanding New Testament scholars — first Ned Stonehouse (Westminster Theological Seminary, Philadelphia), then F. F. Bruce (University of Manchester, England), and now Gordon D. Fee (Regent College, Vancouver, British Columbia) — the NICNT series has continued to develop over the years. In order to keep the commentary "new" and conversant with contemporary scholarship, the NICNT volumes have been — and will be — revised or replaced as necessary.
The newer NICNT volumes in particular take into account the role of recent rhetorical and sociological inquiry in elucidating the meaning of the text, and they also exhibit concern for the theology and application of the text. As the NICNT series is ever brought up to date, it will continue to find ongoing usefulness as an established guide to the New Testament text.

About the Author

Philip H. Towner is Dean of Nida Institute for Biblical Scholarship at the American Bible Society, New York, New York.
Endorsements
When reading this commentary, I felt as if I were sitting in a room listening to Paul and his associates explain the gospel in ever fresh ways for a new day. . . . Phil Towner's readable, exciting exposition of these wonderful letters will usher many into a new age of studies on the Pastorals.