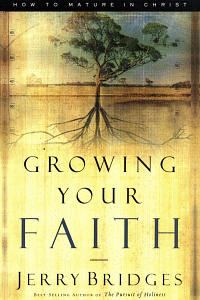 Growing Your Faith
How to Mature in Christ
Product Details
What Does It Mean to Follow Christ?
When we are gripped by the astonishing fact of Christ's love for us, we desire to draw close to Him. But what can we do to deepen our relationship with Jesus? What does He expect of us? And how can we be more like Him?
In Growing Your Faith, author Jerry Bridges, one of the most respected Bible teachers of our time, presents the essential elements of Christian life in a highly readable, surprisingly practical form. Jerry shows us how to:
Feed our spiritual life by taking in the Scriptures
Rely on the Holy Spirit in obedience and prayer
Trust God during the trials of life
Contribute our unique gifts to serve others
When we more fully open our hearts to the truth of His gospel and acknowledge the role of the Holy Spirit in our pursuit of holiness, we can make genuine progress in our spiritual lives. And that's a big part of what it means to follow Christ.
About the Author
Jerry Bridges is an author and conference speaker. His most popular book, The Pursuit of Holiness, has sold over one million copies. Jerry has been on the staff of The Navigators for over fifty years, and currently serves in the Collegiate Mission where he is involved primarily in staff development, but also serves as a speaker resource to the campus ministries.
Endorsements
[Growing Your Faith] is solid. Practical. Needed. Shows readers why and how to come under the influence of God's Word. I'm so thankful we have another book by this man of God.
Biblical, informed, accessible, and rooted in Jerry's own deep experience as a disciple of Jesus and as a teacher. If you are seeking the way forward in Christlikeness, or wish to show that way to others, Growing Your Faith is a book you can count on for substantial help.
For the glory of God and the increase of our joy in God, we Christians all need to grow spiritually. With simple but searching exposition and illustration, veteran teacher Jerry Bridges shows us how. This is a truly wise book. It will enrich all who read it.
Jerry Bridges has a singular gift for making profound truth understandable in simple language. Best of all, he does this without diluting or compromising the difficult truths of God's Word. This book is a superb tool for the new Christian seeking a good start - or the seasoned believer looking for spiritual refreshment and strength.
This is a must-read for all of us who understand that faith is the stabilizing force for life. With clarity and conviction of his book The Pursuit of Holiness, Jerry Bridges charts the path for the development of a dynamic faith that produces rock-solid, dynamic lives.
The price Jerry Bridges has had to pay in the pursuit of holiness has not been small. His pain has been our gain.
Jerry Bridges continues to be a leading communicator of the truths of God's Word to believers - young and mature. In his clear, concise writing style, he makes spiritual truths easily accessible to everyone.
Sanity, realism, authenticity, and personal integrity are the hallmarks of Jerry Bridges's writing.
Few modern writers are able to make biblical truth more understandable than Jerry Bridges.