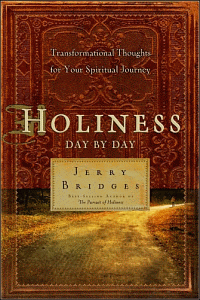 Product Details
Do you want more substance to your daily devotional? Then you will appreciate this one-year devotional from Navigator author Jerry Bridges.
Each entry has been carefully selected from Jerry's best writings, connecting with you on a deeper level and encouraging personal discovery. Full of inspiration, the words on these pages will help to mature and transform the reader.
About the Author
Jerry Bridges is an author and conference speaker. His most popular book, The Pursuit of Holiness, has sold over one million copies. Jerry has been on the staff of The Navigators for over fifty years, and currently serves in the Collegiate Mission where he is involved primarily in staff development, but also serves as a speaker resource to the campus ministries.
Endorsements
The calorie content of this daily diet of Jerry Bridges is very high.
When Jerry Bridges speaks, I listen.
Through his wise writings, Jerry Bridges has become a pastor to my soul.
The price Jerry Bridges has had to pay in the pursuit of holiness has not been small. His pain has been our gain.
Jerry Bridges continues to be a leading communicator of the truths of God's Word to believers - young and mature. In his clear, concise writing style, he makes spiritual truths easily accessible to everyone.
Jerry Bridges charts the path for the development of a dynamic faith that produces rock-solid, dynamic lives.
Sanity, realism, authenticity, and personal integrity are the hallmarks of Jerry Bridges's writing.
Few modern writers are able to make biblical truth more understandable than Jerry Bridges.