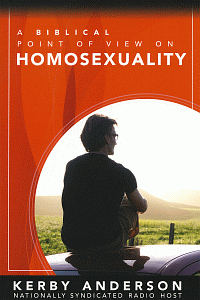 A Biblical Point of View on Homosexuality
Highlights
Equipping Christians to bring a biblical perspective to the important issues of today
A sensitive and factual approach to a difficult topic
Product Details
It's never been easy for Christians to talk about homosexuality. There's the need to carefully balance conviction with compassion. There's the challenge of sorting out truth from fiction. And there's the disagreement over what the Bible really teaches on the subject.
Over the last few decades, homosexuality has moved from the margins of society to the mainstream. In response to this cultural shift, Christian apologist and radio host Kerby Anderson sorts through myths to deliver the facts on homosexuality and the social impact it has had on families, the church, schools, and traditional marriage. With a balance of God's truth found in the Bible and a desire to reach out to homosexuals, he answers key questions about homosexuality, including:
What percentage of the population is homosexual?
Is homosexuality the worst of all sins?
Did Jesus remove God's condemnation of homosexuality?
Is there a connection between gay teens and suicide?
What are the causes of homosexuality?
Should same-sex marriages be legalized?
Is it possible for homosexuals to changes?
How should I respond when someone says, "I'm gay?"
Anderson also looks at the spiritual aspects of homosexuality and offers practical suggestions for Christians seeking to reach out to gay and lesbian friends and loved ones.
This book is an essential resource for anyone seeking to better understand the roots, goals, and implications of homosexuality and the pro–gay movement.
About the Author
Kerby Anderson hosts the nationally syndicated radio talk show Point of View and is the national director of Probe Ministries. The author of several books, he is a frequent guest on programs such as Prime Time America, The NewsHour with Jim Lehrer, Focus on the Family, and The 700 Club. He is a visiting professor at Dallas Theological Seminary.