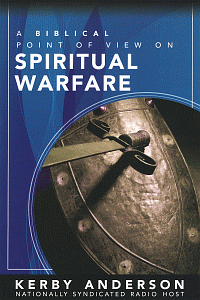 A Biblical Point of View on Spiritual Warfare
Highlights
Equipping Christians to bring a biblical perspective to the important issues of today
Product Details
Every Christian feels the effects of the spiritual warfare that takes place in the unseen, supernatural dimension. It's felt when temptation strikes. It's felt in the struggles between making right and wrong choices. It's felt through a wide variety of influences all around us.
How can believers protect themselves? Current issues expert Kerby Anderson surveys the Bible's guidelines for dealing with spiritual warfare and provides answers to the hard questions people are asking:
What is the key to victory over temptation and sin?
Is Satan for real, and how does he influence us?
Can a believer be demon possessed?
What do angels do, and how are they different from people?
How can Christians keep from being spiritually deceived?
This clear and concise guide deals with the many misconceptions people have about Satan, demons, angels, and spiritual warfare. A helpful resource for standing strong in the faith.
About the Author
Kerby Anderson hosts the nationally syndicated radio talk show Point of View and is the national director of Probe Ministries. The author of several books, he is a frequent guest on programs such as Prime Time America, The NewsHour with Jim Lehrer, Focus on the Family, and The 700 Club. He is a visiting professor at Dallas Theological Seminary.