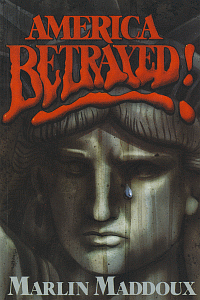 Product Details
From the Foreword
America Betrayed is a timely book written by a well-informed man of God. It truly exposes the subtle inroads of humanism, but does so in a spirit of love and understanding.
Marlin Maddoux is not on a soapbox. He is not trying to establish himself as an authority on humanism. He is simply sharing a burden of his heart. No one can read this book and ever again be silent about the dangers of creeping humanism...It is the very best on the subject...
About the Author
Marlin Maddoux was the host of Point of View radio talk show, the founder and president of the USA Radio Network, as well as a noted journalist and author.
Maddoux was a guest on such national television and radio shows as The CBS Morning News, ABC's Nightline, ABC's Good Morning America, CNN, and Focus on the Family. He is the author of several books, including America Betrayed, What Worries Parents Most, The Gay Deception, Free Speech or Propaganda?, and A Christian Agenda: Game Plan for a New Era, as well as his novel, Seal of Gaia.
Endorsements
Marlin Maddoux strips away the layers of respectability the humanist movement has worn.
Everybody in every position of leadership has to get into the battle because the damage has affected every phase of our lives. I commend Marlin Maddoux for this great work.
Our nation is doomed unless there is a proliferation of knowledge about the sinister nature of this ideology. Thanks to his book, America Betrayed!, citizens are being awakened.