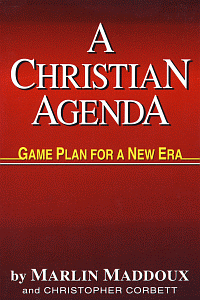 A Christian Agenda
Game Plan for a New Era
Product Details
Christianity in America is at a crossroads.
And the next step is up to us.
In A Christian Agenda, noted author and commentator Marlin Maddoux proposes an action plan to put us back on the right path - and pull our society back from the brink. But there's no time to lose.
The upper echelons of government have become hostile to our most cherished values and many of our freedoms
Media attacks on Christian values are increasing
Much of the church seems totally unequipped to respond
Yet against this stormy background there are growing rays of hope - if you know where to look.
Taking three key battle fronts - the church, the culture, and the government - A Christian Agenda proposes twelve concrete steps that together form a game plan for rediscovering the source of our vitality and realizing a better vision for the future.
About the Author
Marlin Maddoux was the host of Point of View radio talk show, the founder and president of the USA Radio Network, as well as a noted journalist and author.
Maddoux was a guest on such national television and radio shows as The CBS Morning News, ABC's Nightline, ABC's Good Morning America, CNN, and Focus on the Family. He is the author of several books, including America Betrayed, What Worries Parents Most, The Gay Deception, Free Speech or Propaganda?, and A Christian Agenda: Game Plan for a New Era, as well as his novel, Seal of Gaia.