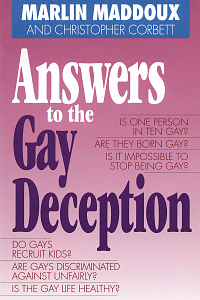 Answers to the Gay Deception
Product Details
Homosexuality is an issue that continues to gain prominence in American society. Yet most of what the average person is being told about homosexuality is wrong. Tragically wrong.
Answers to the Gay Deception, by seasoned observers of the American scene, repairs this imbalanced portrait. This book leads you on an absorbing tour of the very best evidence - facts drawn from the most reliable sources in modern psychology, biology, sociology, and religion. In its pages, you'll find clear answer to vital questions such as:
Are homosexuals really 10% of the population?
Are gays and lesbians "born that way"?
Can a gay person really change?
What is the true "gay lifestyle"?
Are homosexuals more prone to molest or recruit children?
Are gays and lesbians a discriminated class on par with racial minorities?
Is homosexuality permitted by the scriptures of major religions?
Today's raging controversy demands more than popular mythology. You and leaders in your community deserve more than shallow sound bites and clever propaganda. That's why reading Answer to the Gay Deception will ensure that you fully understand what could be the most pivotal issue of our decade.
About the Author
Marlin Maddoux was the host of Point of View radio talk show, the founder and president of the USA Radio Network, as well as a noted journalist and author.
Maddoux was a guest on such national television and radio shows as The CBS Morning News, ABC's Nightline, ABC's Good Morning America, CNN, and Focus on the Family. He is the author of several books, including America Betrayed, What Worries Parents Most, The Gay Deception, Free Speech or Propaganda?, and A Christian Agenda: Game Plan for a New Era, as well as his novel, Seal of Gaia.