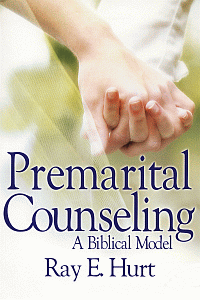 Premarital Counseling
A Biblical Model
Product Details
Half of all couples who marry this year will be divorced within five years. We know statistically that the other 50 percent of couples will stand a better chance of succeeding if they seek counseling before they take their vows.
Premarital Counseling: A Biblical Model comes from the heart and study of a long-term pastor who has helped scores of couples prepare for the day they say "I do." The book outlines for pastors a program of counseling that includes interviews, tests, and guidelines for each partner, as well as practical suggestions for marriage success.
This valuable resource also includes a wedding planner, various approaches to the wedding program, sample ceremonies, budget work sheets, and numerous other helps. For the pastor seeking guidance for this vital aspect of ministry, this is a can't-do-without-it book.
About the Author
Dr. Ray E. Hurt, a veteran pastor of more than 35 years, has conducted numerous marital counseling, leadership, and church growth seminars. He serves as director of the Ministerial Affirmation Program, director of the Certificate in Ministry Program and director of Covenant Ministries for the Church of God in West Virginia. He has been a state council member for 16 years in two states.
Dr. Hurt is a member of the denominational Editorial and Publications Board. He has received training from the Fuller Institute, Southern Baptist Theological Seminary, Church of God Theological Seminary and earned a D. Min. degree from Asbury Seminary.