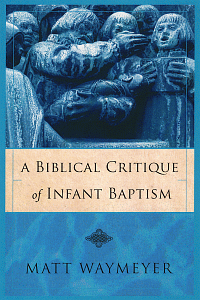 A Biblical Critique of Infant Baptism
Product Details
A Biblical Critique of Infant Baptism offer six reasons to reject infant baptism, each of which is explained in its own chapter. This book is an earnest attempt to strive toward like-mindedness among brothers and sisters in the Body of Christ by careful attention to the Word of God on this important subject.
About the Author
Matt Waymeyer is a graduate of The Master's Way Seminary in Sun Valley, California (M.Div., Th.M.). He serves as pastor of Community Bible Church in Vista, California, where he lives with his wife, Julie, and their five children.
Endorsements
It is amazing to think that, without a biblical foundation, infant baptism is as widespread as it is. In this compelling, convincing work, Waymeyer upholds the model of biblical believer's baptism. Though it's unusual for a book to be written on what is not in the Bible, this one needed to be written.
While finishing up my studies at Westminster Seminary, I wrote a little pamphlet critiquing infant baptism, and in the following years I had many Christian friends encourage me to expand that material into a book. I'm happy to say that Matt Waymeyer has produced a treatment of the subject that far excels any that I could have written. Even after debating the issue for over ten years with my paedobaptist brethren, I found Waymeyer's book to be a rich resource with new insights into the discussion...Of particular note is his careful attention to the grammar, syntax, context, and original languages of the typical pericopae cited by paedobaptists...I highly recommend this volume to any pastor, seminary student, or interested layman who is studying this subject.