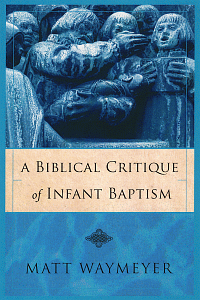 A Biblical Critique of Infant Baptism
Product Details
A Biblical Critique of Infant Baptism offer six reasons to reject infant baptism, each of which is explained in its own chapter. This book is an earnest attempt to strive toward like-mindedness among brothers and sisters in the Body of Christ by careful attention to the Word of God on this important subject.
About the Author
Matt Waymeyer is a graduate of The Master's Way Seminary in Sun Valley, California (M.Div., Th.M.). He serves as pastor of Community Bible Church in Vista, California, where he lives with his wife, Julie, and their five children.
Endorsements
It is amazing to think that, without a biblical foundation, infant baptism is as widespread as it is. In this compelling, convincing work, Waymeyer upholds the model of biblical believer's baptism. Though it's unusual for a book to be written on what is not in the Bible, this one needed to be written.