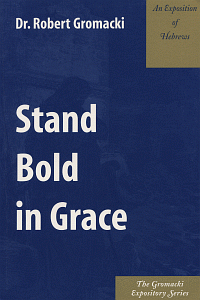 Stand Bold in Grace
An Exposition of Hebrews
Highlights
Part of the Gromacki Expository Series
Product Details
The modern church is much like ancient Israel. The old covenant people wanted to be delivered from their bondage in Egypt, but they did not want to follow Moses into the Promised Land. They just marked time wandering in the wilderness.
In like manner, many Christians are happy that they have been saved from the judgment of hell, but they refuse to trust God for the abundant life in their daily experience. They simply survive in their immaturity, carnality, and mediocrity.
In the Book of Hebrews, the author exhorts his readers to advance into the full blessings of the new covenant. He wants them to enjoy the total ministry of Jesus Christ in this life. He warns them about the dire consequences for rejecting the provision and leadership of the Savior.
Pastors, teachers, Bible schools and colleges, and study groups will benefit from these fine expositions. Based on the English text (KJV), Dr. Gromacki uses his expertise and gifting to present the meaning of the epistle in a clear and straightforward manner. Necessary technical matters and notes on the Greek are included, but they are confined to the footnotes. These books are divided into thirteen chapters, each of which is followed by challenging discussion questions, designed to stimulate personal inquiry and to make the truth of God relevant.
About the Authors
Dr. Robert Gromacki is Distinguished Professor of Bible and Greek at Cedarville University (Ohio) and Pastor of Grace Community Baptist Church in Washington Court House, Ohio. He is the author of 15 books including his popular textbook New Testament Survey. He is a graduate of Dallas Theological Seminary (Th.M.) and Grace Theological Seminary in Winona Lake, Indiana (Th.D.).
Endorsements
Thanks for reissuing the Gromacki books. They are what pastors need today -- Biblically accurate and exegetically based.