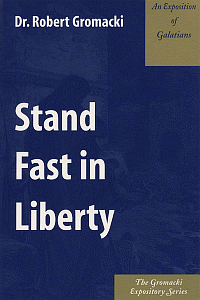 Stand Fast in Liberty
An Exposition of Galatians
Highlights
Part of the Gromacki Expository Series
Product Details
It is fashionable today to be born again, but many who make this profession are not really saved. They are not really justified by faith alone; they believe that they still must do something to contribute to their own salvation. In the first century, many added circumcision and obedience to the Mosaic law to faith in Christ as conditions for entrance into heaven. In this day there have been other substitutions (e.g. baptism, confirmation), but the principle has remained the same: they are trying to be saved by faith and works.
Paul attacked this doctrine tenaciously. Legalism can never provide justification or sanctification. The principles of grace must always govern salvation and service.
In our day the Book of Galatians is extremely relevant. Just as Martin Luther discovered its truth, so it must be rediscovered by the evangelical world. Legalism has again crept into the messages of the churches, and therefore the churches must be alerted once more.
Pastors, teachers, Bible schools and colleges, and study groups will benefit from these fine expositions. Based on the English text (KJV), Dr. Gromacki uses his expertise and gifting to present the meaning of the epistle in a clear and straightforward manner. Necessary technical matters and notes on the Greek are included, but they are confined to the footnotes. These books are divided into thirteen chapters, each of which is followed by challenging discussion questions, designed to stimulate personal inquiry and to make the truth of God relevant.
About the Authors
Dr. Robert Gromacki is Distinguished Professor of Bible and Greek at Cedarville University (Ohio) and Pastor of Grace Community Baptist Church in Washington Court House, Ohio. He is the author of 15 books including his popular textbook New Testament Survey. He is a graduate of Dallas Theological Seminary (Th.M.) and Grace Theological Seminary in Winona Lake, Indiana (Th.D.).
Endorsements
Thanks for reissuing the Gromacki books. They are what pastors need today -- Biblically accurate and exegetically based.