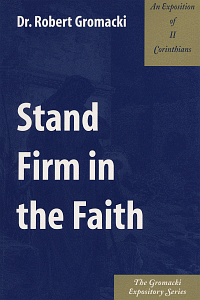 Stand Firm in the Faith
An Exposition of 2 Corinthians
Highlights
Part of the Gromacki Expository Series
Product Details
To study the epistle of II Corinthians in detail is extremely profitable. It has enriched my life, both as a believer and as a preacher of the gospel. I am convinced that no one should undertake the ministry of the oral proclamation of divine truth, whether from the pulpit or in a Bible class, without some intimate knowledge of this epistle. It provides rich insights into the heart and mind of Paul. His purposes and motivations shine forth. It strips away the facade of outward appearance with which so many Christians are impressed. This epistle will cause you to take a fresh look at both yourself and your service for Christ.
Pastors, teachers, Bible schools and colleges, and study groups will benefit from these fine expositions. Based on the English text (KJV), Dr. Gromacki uses his expertise and gifting to present the meaning of the epistle in a clear and straightforward manner. Necessary technical matters and notes on the Greek are included, but they are confined to the footnotes. These books are divided into thirteen chapters, each of which is followed by challenging discussion questions, designed to stimulate personal inquiry and to make the truth of God relevant.
About the Authors
Dr. Robert Gromacki is Distinguished Professor of Bible and Greek at Cedarville University (Ohio) and Pastor of Grace Community Baptist Church in Washington Court House, Ohio. He is the author of 15 books including his popular textbook New Testament Survey. He is a graduate of Dallas Theological Seminary (Th.M.) and Grace Theological Seminary in Winona Lake, Indiana (Th.D.).
Endorsements
Thanks for reissuing the Gromacki books. They are what pastors need today -- Biblically accurate and exegetically based.