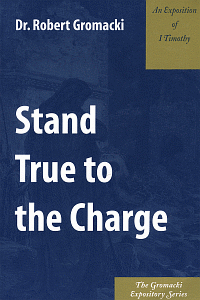 Stand True to the Charge
An Exposition of 1 Timothy
Highlights
Part of the Gromacki Expository Series
Product Details
Someone has said that the greatest ability is dependability. The basic requirement of a steward is faithfulness. In all areas of life, employers and leaders are looking for people whom they can trust, people who will be loyal, people who can be counted on to perform assigned tasks.
These qualities are especially needed in Christian leaders. In this epistle, Paul gave directives to Timothy, who was to minister in Ephesus as the apostle's designated representative. These charges set forth principles for the dependable, faithful servant of God. They also contain guidelines for the life of the local church. A study of this epistle, therefore, will prove helpful for both the pastor and his congregation.
Pastors, teachers, Bible schools and colleges, and study groups will benefit from these fine expositions. Based on the English text (KJV), Dr. Gromacki uses his expertise and gifting to present the meaning of the epistle in a clear and straightforward manner. Necessary technical matters and notes on the Greek are included, but they are confined to the footnotes. These books are divided into thirteen chapters, each of which is followed by challenging discussion questions, designed to stimulate personal inquiry and to make the truth of God relevant.
About the Authors
Dr. Robert Gromacki is Distinguished Professor of Bible and Greek at Cedarville University (Ohio) and Pastor of Grace Community Baptist Church in Washington Court House, Ohio. He is the author of 15 books including his popular textbook New Testament Survey. He is a graduate of Dallas Theological Seminary (Th.M.) and Grace Theological Seminary in Winona Lake, Indiana (Th.D.).
Endorsements
Thanks for reissuing the Gromacki books. They are what pastors need today -- Biblically accurate and exegetically based.