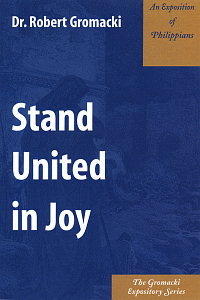 Stand United in Joy
An Exposition of Philippians
Highlights
Part of the Gromacki Expository Series
Product Details
Division and anxiety mark the church of Jesus Christ today. Denominations, churches, families, and individuals are fragmented, confused, and depressed. A revival of unity and joy is needed, but it must first begin in the heart of a yielded believer. In the first century the same situation prevailed in the church at Philippi. Paul wrote this epistle to produce a oneness of joy within the members of that assembly. In our contemporary society, a fresh study of this epistle is needed by each Christian. Do you have inner joy? Are you humble? Do you believe that God is in control? Study Philippians with the aid of this book, and let God transform your heart and mind.
Pastors, teachers, Bible schools and colleges, and study groups will benefit from these fine expositions. Based on the English text (KJV), Dr. Gromacki uses his expertise and gifting to present the meaning of the epistle in a clear and straightforward manner. Necessary technical matters and notes on the Greek are included, but they are confined to the footnotes. These books are divided into thirteen chapters, each of which is followed by challenging discussion questions, designed to stimulate personal inquiry and to make the truth of God relevant.
About the Authors
Dr. Robert Gromacki is Distinguished Professor of Bible and Greek at Cedarville University (Ohio) and Pastor of Grace Community Baptist Church in Washington Court House, Ohio. He is the author of 15 books including his popular textbook New Testament Survey. He is a graduate of Dallas Theological Seminary (Th.M.) and Grace Theological Seminary in Winona Lake, Indiana (Th.D.).