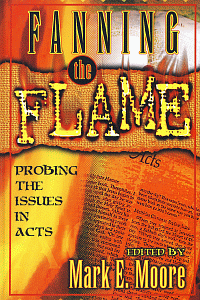 Fanning the Flame
Probing the Issues in Acts
Product Details
How relevant is speaking in tongues for the church today? Is the book of Acts a model for the church and for missions today? How much should we look back in order to go forward? Was the Holy Spirit more active in the early church than He is today? If so, is that the result of God's plan being carried out or due to the failure of Christians today? Are we no longer a people of "the Way" but rather a people of "my way"?
Fanning the Flame is a collection of special studies from the book of Acts. Its purpose is to bring understanding to the events surrounding the start of the church and to fortify the faith of new believers. It will also serve as a great resource for Bible scholars. Read this informative new resource and God will fan the flame of His message in your life. And hopefully those around you will notice the sparks!
About the Author
Since 1990 Mark has been a professor of New Testament at Ozark Christian College. In September of 2008, he was awarded a PhD from the University of Wales for his work on the politics of Jesus. He is also the director of the Institute for Christian Resources dedicated to making Jesus famous by providing Christian resources for real life problems. Mark has authored a number of books, mostly on the life of Christ (also Acts and Revelation). He is a popular speaker noted for his passion for the lost and his participation in completing the great commission of Christ. Mark and his wife Barbara live in Joplin, Missouri.