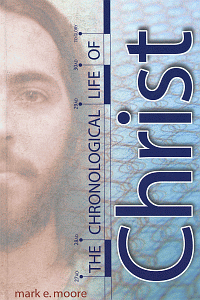 The Chronological Life of Christ
Product Details
"...not much has changed since Jesus gathered dust in the soles of his sandals on Palestinian soil. He is still the buzz at barber shops and corner cafes. He is still talked about and against. He pricks our curiosity, sparks our imagination, and even earns our ire.
Who is he, really? You know he's no politician, but he still transforms nations. He's no social activist, but he is the genesis of who knows how many hospitals, orphanages, and innumerable acts of kindness. A psychotherapist? Hardly. But how many of us 'Humpty Dumpties' has he put back together again?! This peasant carpenter has built himself a kingdom immeasurably greater than his early enemies could have imagined.
What are we to make of him? Please accept my deepest apologies right up front, for this book will not help answer the questions. However, it may help answer this one: What is this man to make me?" - From Mark Moore's Introduction
The Chronological Life of Christ is the definitive resource where all four Gospels have been harmonized into one chronological story line. The reader gets an in-depth look at Jesus' life, ministry, death and resurrection - a look not attainable when reading each Gospel separately. Written using the Thomas & Gundry NIV Harmony of the Gospels as a frame, The Chronological Life of Christ includes a very helpful subject index and user-friendly table for quickly finding Bible passages. This is a must-have resource for every student and teacher of God's Word.
About the Author
Since 1990 Mark has been a professor of New Testament at Ozark Christian College. In September of 2008 he was awarded a PhD from the University of Wales for his work on the politics of Jesus. He is also the director of the Institute for Christian Resources dedicated to making Jesus famous by providing Christian resources for real life problems. Mark has authored a number of books, mostly on the life of Christ (also Acts and Revelation). He is a popular speaker noted for his passion for the lost and his participation in completing the great commission of Christ. Mark and his wife Barbara live in Joplin, Missouri.