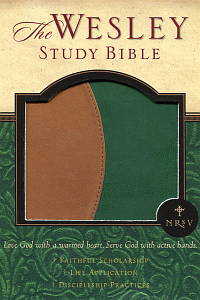 Highlights
Accessibly written by over 50 key pastors
Easy-to-understand explanations of core terms by over 60 Wesley experts,
including: eternal life, forgiveness, grace, heaven, holiness, justice, and
mission
Extended reference to works by John Wesley
Full-color maps; cross references; and summary of each biblical book
This product only includes the notes; it does not include the NRSV text
Product Details
Lead an abundant life, grow as a faithful disciple, and find new avenues to serve. By studying the Wesley Study Bible you will share God's grace and find the good gifts God has for you. As God transforms you through study, you will be inspired to transform the world. Contributors from across the Wesleyan family join together to help you experience God in fresh ways.
Contributors to The Wesley Study Bible span the spectrum of churches that trace their roots to John and Charles Wesley. These leaders recognize our common heritage and our common need for formation as the people called Methodists. Contributors are from the: African Methodist Episcopal Church, African Methodist Episcopal Zion Church, Christian and Missionary Alliance, Christian Methodist Episcopal Church, Church of the Nazarene, Church of God (Anderson), Free Methodist Church of North America, The Salvation Army, Wesleyan Church, United Church of Canada, and The United Methodist Church.
About the Editors
Joel B. Green is Professor of New Testament Interpretation at Fuller Theological Seminary. William H. Willimon is Resident Bishop of the Birmingham Area of The United Methodist Church.
Endorsements
I feel honored to be involved in the creation of the new Wesley Study Bible. It will be valuable for teachers, preachers, Sunday School classes, Bible Study groups, small discussion groups, and individuals who want to know more about the truths of the Scriptures within the Wesleyan tradition written in words that are user-friendly for our time.