The Expositor's Bible Commentary
Complete Edition
Highlights
Named as one of the 850 Books for Biblical Expositors by the Master's Seminary
Product Details
The Expositor's Bible Commentary is one of the most respected and consulted modern commentaries. Known for its accurate and outstanding scholarship, The Expositor's Bible Commentary is a virtual who's who of Bible scholars. Some of the authors include Carl F.H. Henry, F.F. Bruce, Walter C. Kaiser, Bruse M. Metzger, Gleason L. Archer, Jr., and Gordon D. Fee. In their commentary, these theologians introduce you to important undercurrents of the Bible, including Authority, Inspiration & Interpretation of Scripture, Geography, Eschatology, and Language & Textual Criticism of the Bible.
Enjoy Precise, Verse-By-Verse Commentary
Each commentary section, titled "Exposition," takes a careful look at the language behind the text. The text is examined in verse segments based on contextual ties. Each section of text has a short title describing the theme, a brief discussion of the overall context, and a thorough study on the key lexical and literary aspects.
A Treasury of Scholarly Notes
Following each commentary section is a section titled "Notes" that take you deeper into the author's research and study. Here, the author can discuss alternative readings, variants in the text, and further comments on specific Greek and Hebrew words. Each biblical word is displayed in Greek or Hebrew, then transliterated, and then accurately translated into English. This makes all words accessible to those who have little or no language training. However, the concepts discussed are deep enough to benefit scholars and exegetical preachers.
Plus, Volume 1 includes introductory articles on Theology, Archeology, Chronology, and many other topics. You'll find this first volume a gold mine of background information.
Many Wordsearch users have made The Expositor's Bible Commentary their go-to resource for study and sermon and lesson preparation.
Check out a sample of this series by clicking on the yellow Sample button underneath the book cover image.
About the General Editor
The late Frank E. Gaebelein (New York University and Harvard University) for many years held the position of headmaster of the Stony Brook School. He was co-editor of Christianity Today and devoted himself to editing, writing, and speaking.
Endorsements
...a roaring success. Both form and style contribute to readability, and the scholarship is sound without being pedantic or tedious...
...a very helpful addition to the library of anyone interested in studying and teaching the Scriptures more effectively.
...one of the greatest pieces of religious literature published in this generation. We cannot recommend it too highly.
The contributors are all competent scholars of international repute. Their work transcends denominational boundaries. Critical notes are kept separate, thereby ensuring the value of this series to a wider readership.
I recommend it
Products Included In This Bundle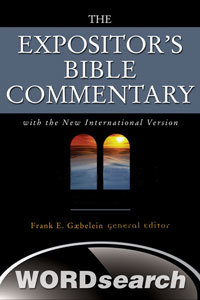 The Expositor's Bible Commentary: Volume 1
Introductory Articles: General, Old Testament, New Testament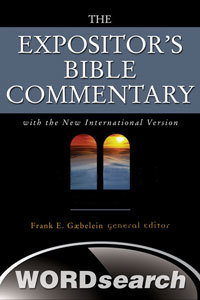 The Expositor's Bible Commentary: Volume 2
Genesis, Exodus, Leviticus, Numbers
The Expositor's Bible Commentary: Volume 3
Deuteronomy, Joshua, Judges, Ruth, 1 & 2 Samuel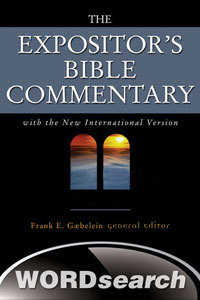 The Expositor's Bible Commentary: Volume 4
1 & 2 Kings, 1 & 2 Chronicles, Ezra, Nehemiah, Esther, Job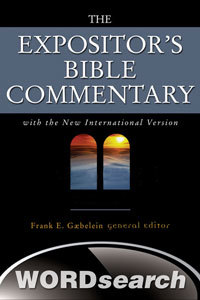 Psalms, Proverbs, Ecclesiastes, Song of Songs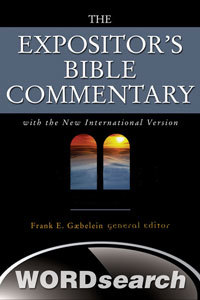 The Expositor's Bible Commentary: Volume 6
Isaiah, Jeremiah, Lamentations, Ezekiel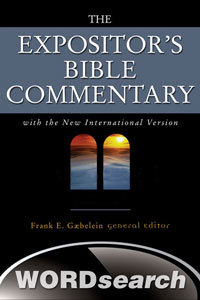 The Expositor's Bible Commentary: Volume 7
Daniel and the Minor Prophets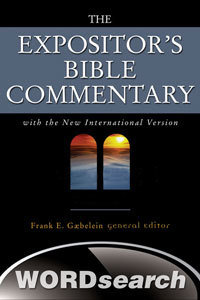 The Expositor's Bible Commentary: Volume 8
Matthew, Mark, Luke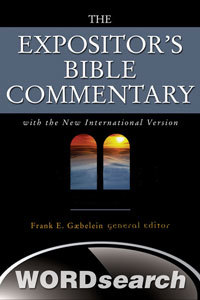 The Expositor's Bible Commentary: Volume 9
John and Acts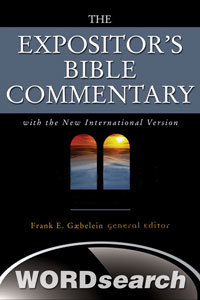 The Expositor's Bible Commentary: Volume 10
Romans through Galatians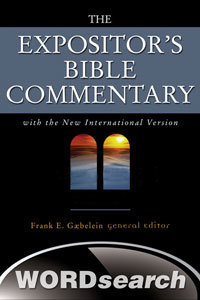 The Expositor's Bible Commentary: Volume 11
Ephesians through Philemon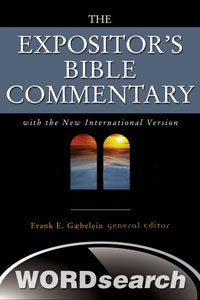 The Expositor's Bible Commentary: Volume 12
Hebrews through Revelation