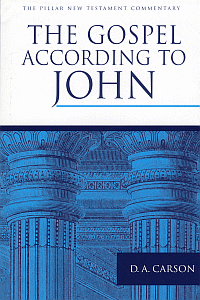 Pillar New Testament Commentary: The Gospel According to John
Highlights
Number 1 Critics Choice for Commentaries & Runner-up Readers Choice (1992)
Greek vocabulary and verb tenses are regularly discussed
Designed both for serious students and for general readers of the Bible
Commentaries are exegetical in nature, but with an intent to aid expositors
Product Details
"Anyone who dares to write yet another commentary on the Gospel of John must give reasons for doing so," writes D. A. Carson in his preface to this book. With this acclaimed volume in the Pillar New Testament Commentary series, Carson seeks above all to explain the text of John's Gospel to those who minister the Word of God to others, either by preaching or by leading Bible studies. However, the commentary is also designed for use by informal laypersons for purposes of personal edification.
Throughout his commentary, Carson attempts the following: to make clear the flow of the text, focusing on the movement of thought rather than on word studies and Greek syntax; to engage a small but representative part of the massive secondary literature on John, providing a kind of map to contemporary studies on this Gospel; to draw a few lines toward establishing how John's Gospel contributes to biblical and systematic theology; and, finally, to offer a consistent exposition of John as an evangelistic Gospel.
Preceded by a comprehensive introduction treating such matters as authenticity, authorship, purpose, and structure of the Gospel, this commentary on John exhibits the solid evangelical Scripture exposition for which Carson is well—known and respected.
About the Series
The Pillar New Testament Commentary, designed for serious readers of the Bible, seeks above all to make clear the meaning of the text of Scripture as we have it. Writers of the PNTC volumes interact with the most important, informed contemporary debate yet avoid undue technical detail. Their ideal is a blend of rigorous exegesis and exposition, scholarship and pastoral sensitivity, with an eye alert both to biblical theology and to the contemporary relevance of the Bible.
While the New International Version is the translation of choice for the English text, Pillar authors base their exposition on the Greek New Testament. They are deeply committed to a fresh wrestling with the text, using every means at their disposal to "loosen the Bible from its pages" to help readers understand what the text says and how to apply it to life today.
Underlying the approach of this series is the fact that God stands over us rather than we in judgment of him. When God speaks to us in his Word, those who profess to know him must respond with reverence, a certain fear, a holy joy, and a questing obedience. These attitudes are reflected in the profoundly Christian stance of the PNTC authors toward the text. With these values in place, the Pillar commentaries will continue to be warmly welcomed by pastors, teachers, and students everywhere.
About the Author
D. A. Carson, general editor of The Pillar New Testament Commentary, is research professor of New Testament at Trinity Evangelical Divinity School, Deerfield, Illinois. He has written nearly fifty other books, including The Gagging of God: Christianity Confronts Pluralism, How Long, O Lord? Reflections on Suffering and Evil, and Becoming Conversant with the Emerging Church.
Endorsements
Carson is one of the most able Bible exegetes of our time. In this volume he has drawn upon his considerable skills and knowledge to produce the most exciting, helpful, and sound commentary on the Gospel of John in decades. I commend it to a wide range of readers. Pastors and laypersons alike will find it helpful, practical, and readable.