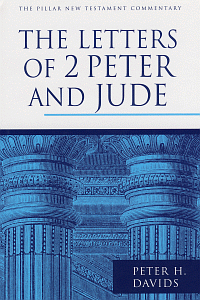 Pillar New Testament Commentary: The Letters of 2 Peter and Jude
Highlights
Named by Preaching Magazine as Year's Best Book For Preachers - 2006
Greek vocabulary and verb tenses are regularly discussed
Designed both for serious students and for general readers of the Bible
Commentaries are exegetical in nature, but with an intent to aiding expositors
Product Details
Filling a notable gap in scholarship on 2 Peter and Jude, Peter Davids artfully unpacks these two neglected but fascinating epistles that deal with the confrontation between the Greco-Roman world and the burgeoning first-century Jesus communities. Davids firmly grasps the overall structure of these oft-maligned epistles and presents a strong case for 2 Peter and Jude as coherent, consistent documents. Marked by exceptional exegesis and sharp, independent judgments, Davids's work both connects with the latest scholarship and transforms scholarly insights into helpful conclusions benefiting Christian believers.
About the Series
The Pillar New Testament Commentary, designed for serious readers of the Bible, seeks above all to make clear the meaning of the text of Scripture as we have it. Writers of the PNTC volumes interact with the most important, informed contemporary debate yet avoid undue technical detail. Their ideal is a blend of rigorous exegesis and exposition, scholarship and pastoral sensitivity, with an eye alert both to biblical theology and to the contemporary relevance of the Bible.
While the New International Version is the translation of choice for the English text, Pillar authors base their exposition on the Greek New Testament. They are deeply committed to a fresh wrestling with the text, using every means at their disposal to "loosen the Bible from its pages" to help readers understand what the text says and how to apply it to life today.
Underlying the approach of this series is the fact that God stands over us rather than we in judgment of him. When God speaks to us in his Word, those who profess to know him must respond with reverence, a certain fear, a holy joy, and a questing obedience. These attitudes are reflected in the profoundly Christian stance of the PNTC authors toward the text. With these values in place, the Pillar commentaries will continue to be warmly welcomed by pastors, teachers, and students everywhere.
About the Author
Peter H. Davids is professor of biblical theology at St. Stephen's University in St. Stephen, New Brunswick. He is the co-editor of Dictionary of the Later New Testament and Its Developments and the author of The Epistle of James from The New International Greek Testament Commentary and The First Epistle of Peter from the The New International Commentary on the New Testament.
Endorsements
In this well-written and informative commentary on 2 Peter and Jude, Peter Davids helps us read these two fascinating letters in light of their Jewish background. He uses his exegetical skill and knowledge of Judaism to provide satisfying explanations of 'slandering celestial beings' and the many other difficult-to-understand passages. This outstanding commentary is clearly a 'top pick' on these two letters.