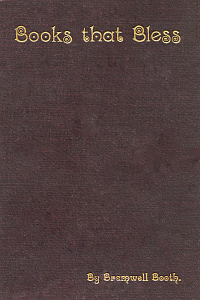 Product Details
Books That Bless is a compilation of articles written to encourage the reading of books that will prove to be a blessing and to discourage, if not to hinder, the reading of books which would muddle the thinking of believers. Written during the bustle of a busy life, Bramwell Booth regarded his audience primarily as Salvationists, but the volume will prove to bring up points of consideration for any wishing to take the time required to read the books discussed. The titles reviewed include:
Salvation Soldiery
The Life of Thomas Collins, a Methodist Preacher
Popular Christianity
The Course of Time
Isaac Marsden, of Doncaster
Godliness
On the Banks of the River; or, Mrs. Booth's Last Days
Brother Francis; or Less than the Least
The Life of Charles G. Finney
The Practice of the Presence of God
Helps to Holiness
The Way of Salvation
Red Flowers of Martyrdom
The Offices of the Holy Spirit
John Allen, the Salvation Navvy
About the Author
Bramwell Booth (1856-1929) was the first child born to William and Catherine Booth, founders of the Salvation Army. Bramwell began serving in the Salvation Army at the young age of fourteen and, in 1881, General William Booth appointed him as as his Chief of Staff of the Salvation Army. Bramwell served in this capacity until his father's death, and, at such point, became the second General of the Salvation Army. Bramwell helped the Army navigate the tumultuous years of World War I, worked to bring public awareness to the prostitution of young English girls, and served in multiple other capacities. His competency as General was questioned by some within the ranks, and he was asked to resign in 1929 by the High Council of the Salvation Army. He refused, took the issue to court, and lost. Shortly thereafter, he was "Promoted to Glory."