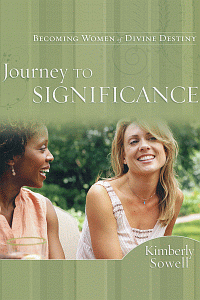 Journey to Significance
Becoming Women of Divine Destiny
Product Details
God has a Divine Plan for You
Life challenges are, in fact, stepping-stones to God's plan for your life. Every challenge you face becomes an opportunity to see the power of God working through you. In Journey to Significance, you will find a simple-to-use, six-week journey through the lives of Joseph, David, Daniel, Esther, Mary of Bethany, and Mary, the mother of Jesus, that will have you see the challenges you face as opportunities for God to work powerfully in your life as He shapes your character.
Relevant stories, analogies, and engaging, in-depth study questions will cement your understanding of biblical principles and truths. With a facilitator's guide included, individuals and groups can experience God's guidance on the path He has already carved out for the journey to your divine destiny.
About the Author
Kimberly Sowell is the founder and president of Kingdom Heart Ministries, a ministry dedicated to inspiring women to make their relationship with Jesus Christ the center of who they are and how they live each moment, growing in Christ and sharing their faith with the world. Through Kingdom Heart, Kimberly's ministry includes motivational speaking, leading women's spiritual revival weekends, writing, missions, and evangelism. Kimberly also has a thriving ministry through Women by Design Ministries, a women's speaking team that offers women's conferences nationwide.
She holds a bachelor of arts degree from Clemson University and a master of divinity degree from Southeastern Baptist Theological Seminary and has authored and edited numerous magazine articles and newsletters for various evangelical groups. She and her husband, Kevin, along with their children, make their home in Lancaster, South Carolina.
Endorsements
Journey to Significance places the reader inside the biblical narrative through introspection which Kimberly calls "stepping-stones." You will be taken on a journey with biblical characters and challenged to grow through their "God journey" and life of significance. You will be challenged to look at your own life honestly, humbly, and in obedience to God as you continue your significant journey of faith.
Everybody is looking for significance in their life. This work is a versatile, comprehensive individual or group Bible study that takes each reader through her personal journey to significance. The stories and the glance into our own lives walks us through Scriptures and interaction that can cause us, regardless of our religious standards, to take a look at who we are, where we are in life, where we want to be in life, and how to get there God's way. Throughout the book we can see God's love for us and how He has prepared a life of abundance for each of us. Read this book. Your eyes will be opened to more that you can imagine to help you in the dailiness of life.