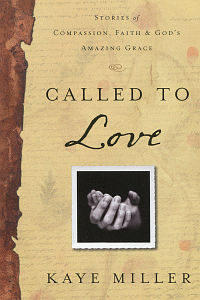 Called to Love
Stories of Compassion, Faith & God's Amazing Grace
Product Details
Change a Life, Change the World
How would your life change if you loved—really loved—people with a seemingly impossible kind of love?
In Called to Love, Kaye Miller will guide you on a journey of self—discovery through her powerful, and often heartrending, true stories of faith in action. As the child of medical missionaries in Thailand, she witnessed compassion in the hands of those reaching out to lepers. As a nurse, she has lived out her parents' example by ministering to hurting people around the world. As the leader of one of the world's largest missions organizations, she has taken part in the collective efforts of thousands of men and women, who in countless situations have displayed God's amazing grace.
See with His eyes. Listen with His ears. Touch with His hands. Think with His mind. Feel with His heart. Your call to love will transform your heart and life as you embrace the challenge to heal, proclaim, give, and overcome.
About the Author
Kaye Miller owns a lifetime of missions experiences and currently serves as the 21st president of national Women's Missionary Union (WMU). Having grown up in Thailand as the daughter of medical missionaries, she shares her passion for missions at speaking engagements and conferences throughout the United States. Prior to serving as president, Kaye worked for several years as a registered nurse. A graduate of Baylor University, in Waco, Texas, she and her husband, Mark, reside in Little Rock, Arkansas, where they have four children and two grandchildren.
Endorsements
Kaye's book will challenge you to hear your call and to live it to the max. Stories from Kaye's life and insights from Scripture bring the truth into clear focus. God calls His people to love beyond words and sentiments. He calls His people to love in action.
With the giftedness of a master storyteller and the heart of the missionary, Kaye Miller paints a picture right before our eyes of what it is to love a lost and dying world. She draws from her missionary kid upbringing and her continuing ministry to draw the believer to a closer walk with the Lord and to making love a verb in their lives.
In this kaleidoscope of biblical truths, personal experiences, and encouraging insights, Kaye Miller offers a fresh look at the extravagant love of God. Her writing is transparent and Christ—centered, reflecting a deep devotion to God and a desire to see Him exalted.
Kaye Miller is as captivating in her storytelling as she is in her writing. Having heard her relay many of these stories in person, I found myself hearing her voice as I read. Her love for the Lord and His mission and her desire to lead others into a missional lifestyle are evident in each of these heartwarming stories of faith and compassionate love for all people. Called to Love is a must—read for anyone seeking to live out the Great Commission each day.
Called to Love is a compelling account of what love can do in you and through you. I commend this book to you. Kaye is biblically straight, practical in focus, and warmhearted in her approach. Read and see how seeing through love eyes can change your life.
More than a memoir, this book shows us what love looks like in the nitty-gritty of life. All you have to do is make yourself available to the Lord and He will show you how to love, who to love, and where to start. Prepare to be challenged, encouraged, and pulled out of your comfort zone as you read about Kaye Miller's own journey into the heart of God's love. Called to Love will help all of us reach beyond ourselves and make a positive difference through the simple act of loving others in Jesus's name.
Called to Love reminds us of God's deep love for us and for the nations. Through Christ—honoring testimonies and biblical reflections, Miller paints portraits of the call to respond to God's love and manifest it to others, whether at home or abroad. You will be drawn to a deeper dependence on God's love and more faithful expression of it at home and around the world.
Kaye Miller's first love for the Lord and all His people is magnetic in Called to Love. Powerful Scripture, poignant illustrations, and pertinent quotations are woven into her personal story of observing, answering, and living God's love call. This irrefutable case for the priority of dynamic love in the life of each Christ follower challenges me to respond with Christ—like compassion.